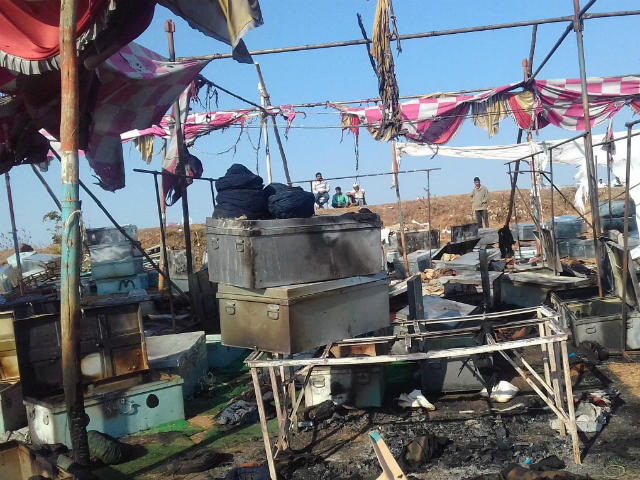 Highlights
Costumes for some 50-odd actors were destroyed
Early Wednesday, an unidentified group of 10-20 people attacked the set
Padmavati has been filming near Kolhapur for over nearly 10 days
New Delhi:
The costumes of filmmaker
Sanjay Leela Bhansali's Padmavati were 'burnt to ashes'
after the set of the film was torched last night, the costume designer told news agency IANS. Rimple Narula of the design partnership Rimple and Harpreet said that costumes for some 50-odd actors - most of them junior artistes - were destroyed in the fire and nothing could be salvaged.
Padmavati
has been filming near Kolhapur in Maharashtra for over nearly 10 days. Early this morning, an unidentified group of between 10 and 20 people attacked the set, vandalized parked vehicles and set the location on fire. Props and costumes were damaged in the blaze but no injuries have been reported.
"I have spoken to the makers, and they are saying the movie set is totally damaged, and things have been burnt to ashes. Nothing much could be rescued because perhaps the fire brigade didn't reach in time. There were plenty of costumes, especially for junior artistes. These must be costumes for around 50 people who were to shoot a scene involving an army," Rimple Narula told IANS, explaining that the outfits were stored in assorted trunks and labelled for each person. The costumes were meant for a scene featuring an army.
"It is very unfortunate that this is happening to such a creative person like Mr Bhansali. There's no measure for hard work, and it has all been burnt. The loss has not been accounted yet, but we will have to start from scratch. These were not easy costumes - there was a lot of detailing and were made according to sizing and measurement," Ms Narula told IANS. This is the first film Rimple and Harpreet Narula are designing for and working for Sanjay Leela Bhansali,
famous for his attention to detail
, has been challenging.
Maharashtra's Minister of State for Home Deepak Kesarkar said that the film crew has been asked to file a police complaint.
Padmavati
is based on the legend of Rani Padmini who is believed to have committed jauhar when Emperor Alauddin Khilji attacked Chittor. The film has prompted objections from certain quarters over alleged scenes depicting a romance between Padmini and Khilji. In January, Mr Bhansali was assaulted by a Rajput group called Karni Sena while he was filming in Jaipur's Nahargarh Fort. He later denied that the scenes in question were included in the film and
moved the shoot out of Rajasthan
.
Padmavati
stars Deepika Padukone in the title role with Ranveer Singh and Shahid Kapoor playing the characters of Alauddin Khilji and Raja Ratan Singh.
(With inputs from IANS)