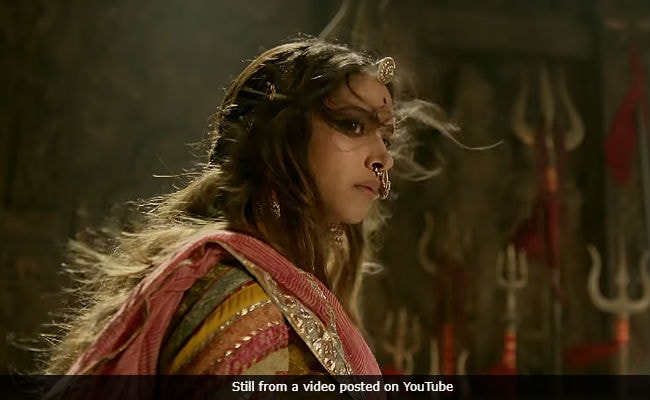 Highlights
Just to be able to present the film... was joy and excitement: Deepika
Deepika Padukone faces several threats but she says she was never scared
When you're right you don't need to be afraid, says Deepika
Mumbai:
Deepika Padukone is undoubtedly one of the happiest persons in Bollywood after the release of her film "
Padmaavat
," which was dogged by controversies for months. In an interview with NDTV's Rohit Khilnani, the 32-year-old actress said that more than relief, it was the feeling of "absolute joy" to present her film to the world. "
Padmaavat
," which is based on Malik Muhammad Jayasi's ballad of the same name, was slammed by Rajput Karni Sena and other fringe outfits for distorting historical facts. Several threats - including death threats for Deepika and director Sanjay Leela Bhansali - were issued against the film's team but after a long battle the film
saw the light of the day and emerged victorious
.
Deepika Padukone talked about working with Mr Bhansali for the third time (after
Ram Leela
and
Bajirao Mastani
and the "
Padmaavat
" row. Here are excerpts from the interview:
Ques:
Were you relieved when the film released?
Deepika Padukone:
I won't say relief. It would say absolute joy. We've put months and months of hard work and it comes from a very special place. So just to be able to present the film and the fact that the whole world would be able to see it, it was more joy and excitement more than anything else.
Ques:
Does working with Sanjay Leela Bhansali better your craft and how?
Deepika Padukone:
Absolutely. He has a way of breaking you down. I think that the best way to work with him is to leave all your baggage behind and trust and let go. Not just with him but it's an important process in filmmaking itself. I try to use every film as a new experience. I may have done x number of films and learnt with each one of them... You treat each one as a new experience. He (Mr Bhansali) makes you dig so deep that you start finding new things about yourself. And along the process it makes you a much stronger and better human being.
Ques:
When your film was all over the news - enough was said about it, people wrote blogs, columns and letters - were you reading or did you switch off?
Deepika Padukone:
It was inevitable in some ways. I didn't need to follow what was happening as everything found a way to come back to me. But I think, I went about my life as anyone else would. I had personal and professional commitments which I went about. A question that I'm frequently asked, 'Was I scared or afraid?' I don't think so at all. I believe that when you're right you don't need to be afraid of it.
Watch Deepika's full interview here:
"
Padmaavat
," which released on January 25, has collected Rs 166 crore so far. The film has performed exceptionally well at the international box office too.