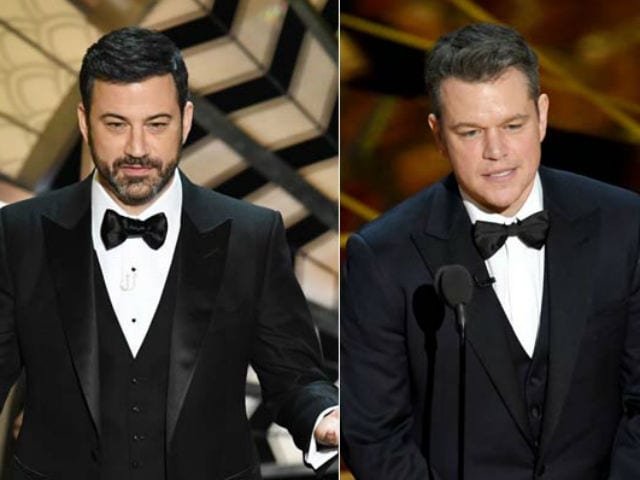 Highlights
Jimmy Kimmel live tweeted to Donald Trump
"Hey Donald Trump, you up?" tweeted Jimmy
When it was Matt Damon's turn to speak, Jimmy shouted "Wrap it up"
New Delhi:
If you watched the 89th Academy Awards, you will most likely be discussing nothing but the
Best Picture goof-up
, courtesy a
wrong envelope and co-presenters Warren Beatty
and Faye Dunaway. It was going pretty great before that though.
First time Oscar
host Jimmy Kimmel grabbed the opportunity to troll Hollywood's bugbear US President Donald Trump and his own personal bugbear, actor
Matt Damon
. He got in some good jibes straightaway, saying in his
opening monologue
: "This broadcast is being watched live by millions of Americans and around the world in more than 225 countries that now hate us," he said, referring to Mr Trump's travel ban and his inaccurate citing of Sweden as an example of a troubled country.
More ripostes against The Orange One. "I want to say thank you to President Trump. Remember last year when it seemed like the Oscars were racist? That's gone, thanks to him,"
Jimmy Kimmel
said. There was a reference to Mr Trump's dismissing of Meryl Streep as an 'overrated' actress. "Of all the 'great' actors here in Hollywood, one in particular has stood the test of time for her many uninspiring and overrated performances... Meryl Streep has phoned it in for more than 50 films over the course of her lackluster career," said Jimmy, adding to Ms Streep: "Nice dress, by the way. Is that an Ivanka?" Donald Trump's daughter Ivanka Trump has a clothing range, recently dropped by department store Nordstrom.
Watch Jimmy Kimmel's opening monologue:
My opening monologue from the 89th #Oscars... @TheAcademy@ABCNetworkpic.twitter.com/rXNU8aZfcd

— Jimmy Kimmel (@jimmykimmel) February 27, 2017
"We're at the Oscars,
the Academy awards
. You're nominated, you got to come, your families are nominated, your friends. Some of you will be able to come up here on the stage tonight and give a speech that the president of the United States will tweet about in all caps during his 5 a.m. bowel movement tomorrow," Jimmy Kimmel said, mocking Mr Trump's Twitter addiction.
Disappointingly, there was no answering rejoinder from POTUS, despite Jimmy's best efforts. "It has been more than two hours to the show and he has not tweeted yet, I am worried," he said midway through the show. He even tweeted to Mr Trump:
Hey @realDonaldTrump u up?

— Jimmy Kimmel (@jimmykimmel) February 27, 2017
Fortunately for Jimmy Kimmel (and for the rest of the Oscar crowd which might otherwise have been made the butt of his jokes), actor Matt Damon was around for him to insult. Jimmy and Matt have conducted a mock feud for years, ever since the talk show host began ending his episodes with the words, "Sorry, Matt Damon, we're out of time" - the 'battle' has included a break-up song by Matt and Jimmy Kimmel's girlfriend of the time Sarah Silverman, a response from him and Matt's friend Ben Affleck, and an epic takeover of
Jimmy Kimmel Live
in which Matt hijacked the show, tied Jimmy to a chair and hosted himself.
Ahead of the Oscars,
Jimmy Kimmel announced his intention of keeping the spotlight off Matt Damon
, so help him God. "I'm going to do everything I can to make sure that he doesn't win. My goal is to keep him offstage," Mr Kimmel said in an interview to The
Hollywood Reporter
. Matt Damon produces Best Film nominee
Manchester By The Sea
. On the red carpet, Matt Damon admitted that he was prepared for trouble. "I'm a member of the Academy so I think I'll definitely make it into the theater, but I don't know what he's going to have in store for me. It's going to be ugly," he told Ryan Seacrest. In his green room, Jimmy Kimmel was watching:
Dead man walking the red carpet. #Oscarspic.twitter.com/j2KaUkdHTX

— Jimmy Kimmel (@jimmykimmel) February 27, 2017
Jimmy Kimmel wasted no time, opening hostilities in the monologue: "I've known Matt for so long, when I first met Matt, I was the fat one." "He's a selfish person. Those of you who've worked with him know this. But Matt did something very unselfish. He gave an Oscar-calibre role to Casey Affleck and made a Chinese ponytail movie instead and that movie went on to lose 80 million dollars," he said, referring to
Manchester By The Sea
actor Casey Affleck and Matt's critically panned film
The Great Wall
. He later dissed Matt's film We Bought A Zoo as well.
Things came to a head when Matt Damon and Ben Affleck came out to present the screenplay Oscars - the actors won a joint Oscar for writing their film Good Will Hunting years ago. Ben was introduced by Jimmy Kimmel as a "two-time Academy Award winner," Matt as a "guest." Then, Matt read out the nominees, shouting to be heard because Jimmy was conducting the orchestra into a crescendo that would drown Matt out. "You got to be kidding me! Come on, what is with the music? Am I being played off? Seriously? I'm just presenting!" Matt Damon retorted. "Wrap it up! We want to go home!" yelled Jimmy Kimmel from the orchestra pit.
So far, so Jimmy Kimmel. Matt Damon's film did not win the Oscar - though Casey Affleck did win Best Actor.