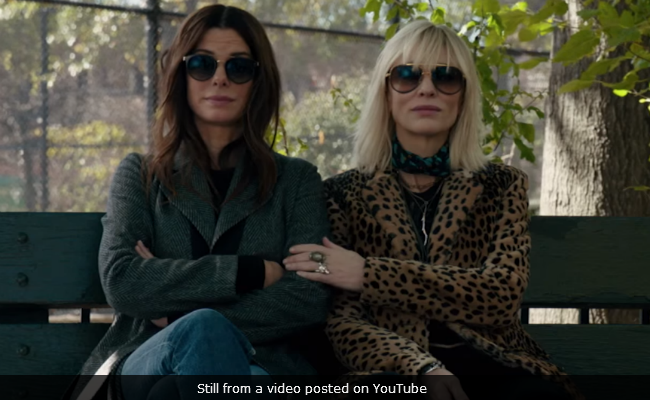 Highlights
Ocean's 8 trailer is finally out
The film stars Sandra Bullock, Anne Hathaway, Rihanna
The film is a sequel to the Ocean's Trilogy
New Delhi:
Yay! The first trailer of
Ocean's 8
is finally here and it definitely proves that the all-female heir to the
Ocean's 11
franchise will be spectacular.
Ocean's 8
stars an all-star ensemble cast including Sandra Bullock, Cate Blanchett,
Anne Hathaway, Rihanna
, Mindy Kaling, Awkwafina, Sarah Paulson, and Helena Bonham Carter. In the trailer, we see that Mindy Kaling plays a jewelry expert, Rihanna a mysterious hacker type, Helena Bonham Carter works in fashion, Sarah Paulson's a reluctant mom, and Awkwafina plays a street-smart hustler. The target is Anne Hathaway's character, or more specifically, her $150,000,000 necklace. Directed by Gary Ross,
Ocean's 8
is written by Ross and Olivia Milch. It is a sequel to the
Ocean's Trilogy
.
Without much-ado watch
Ocean's 8
trailer here:
In no time of its arrival, the trailer has garnered much love from the fans and is already trending on Twitter. "Can't wait" wrote one Twitter user while the others have filled the comment section with amazing comments.
Ocean's 8
is a sequel to George Clooney and Brad Pitt's
Ocean's
movies. Other stars that will make appearances throughout the film include James Corden, Kim Kardashian West, Kendall Jenner, Kylie Jenner, Dakota Fanning, Matt Damon, Anna Wintour and Hailey Baldwin.
Ocean's 8
is set to hit
theatres on June 8, 2018.