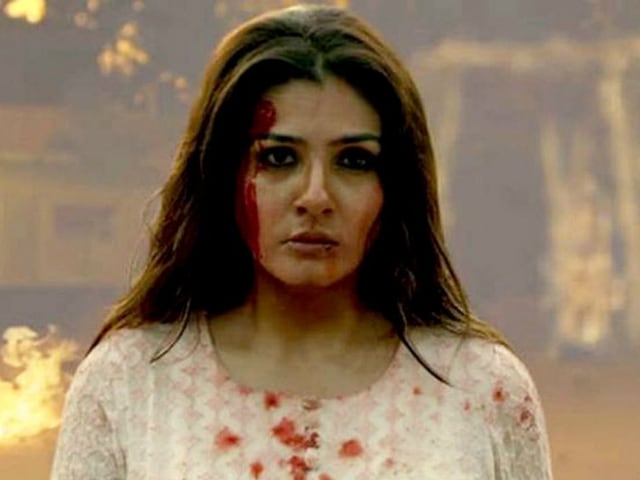 Highlights
Maatr collected Rs 40 lakh on the day of release
Raveena has made comeback in Bollywood after two years
Raveena will next be seen in Shab
New Delhi:
Actress
Raveena Tandon
's comeback movie
Maatr
has been at the box office for two days now after the release and have made Rs 80 lakhs so far. Trade analyst Taran Adarsh shared the business report of
Raveena's movie
, which released on April 21 across 350 screen in India. The movie, where the 42-year-old actress plays the role of a mother whose daughter is subjected to a traumatic experience, collected Rs 40 lakh on the day of release and same amount the next day. "
Maatr
Fri 40 lakhs, Sat 40 lakhs. Total: Rs 80 lakhs [350 screens]. India biz (sic)," Mr Adarsh's tweet reads. Raveena has made a comeback with the Ashtar Sayed-directed movie after a gap of two years. The film highlights the failure of the Indian judiciary system while a mother struggles to help her daughter get justice. The movie, which is shot in Delhi and Haryana, also stars Alisha Khan, Hasan Malik, Madhur Mittal, Divya Jagdal, Anurag Arora and Saheem Khan in pivotal roles.
#Maatr Fri 40 lakhs, Sat 40 lakhs. Total: Rs 80 lakhs [350 screens]. India biz.

— taran adarsh (@taran_adarsh) April 23, 2017
In his review for NDTV Movies, Saibal Chatterjee rated the film one-and-half stars and described the
Maatr
as: "Little is likely to come out of
Raveena's comeback rol
e no matter how heavy-duty the wounded woman persona might sound on paper. She certainly isn't to blame for the film's pulpy quality. Despite being saddled with a sketchily written character, the veteran actress gives the role her best shot. Sadly, her best simply isn't good enough to salvage this annoyingly egregious film."
Maatr
, which was initially denied CBFC certification due to some disturbing scenes, received rave reviews after the release of the trailer on March 30. She also told news agency PTI, "I can feel the pain of this person that I am playing in the film. Maatr has been shot realistically and the sensitivity has been retained. I don't know commercially how well we are going to do. But if the message goes through and people stand up and take note of what's happening, we will succeed."
Watch the trailer of Maatr here:
Raveena Tandon
will next be seen in Onir's film
Shab
. The movie also features Arpita Chatterjee, Ashish Bisht, Simon Frenay and Areesz Ganddi in key roles.