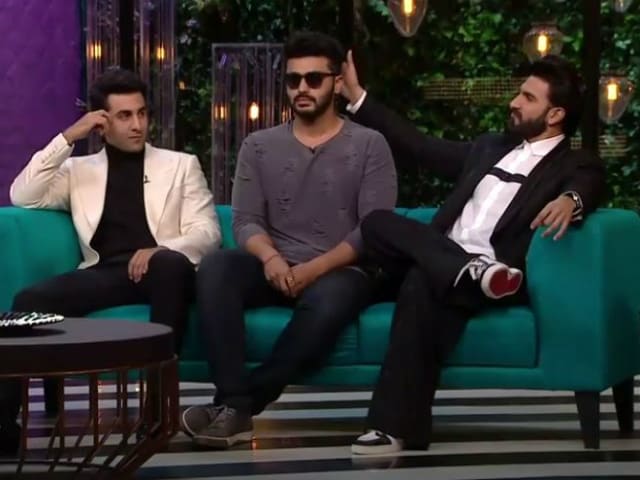 Highlights
'We have come together to save your show,' Ranveer told Karan
Ranbir said Ranveer and Deepika would make 'awesome babies'
Koffee With Karan Season 5 episode 4 aired on November 27
New Delhi:
Koffee With Karan
Johar AND
Ranbir Kapoor AND Ranveer Singh
turned out to be the most entertaining episode so far (not surprising at all). Perhaps only Akshay Kumar and Twinkle Khanna's appearance matched the level of electric energy Ranbir and Ranveer displayed on the show. There was non-stop banter, incessant leg-pulling and umpteen jokes from the extremely classified NSFW section. If Ranbir and Ranveer were not enough, Arjun Kapoor was found sitting in between the two
Koffee
guests, alternatively grinning and looking bewildered. Arjun, like us, had no idea what was to follow. All we can tell you - there were kisses galore! On national television.
Bigg Boss
, now's a good time to be jealous.
Karan Johar, upstaged by Twinkle Khanna's talent for political incorrectness on a previous episode, was prepared this time. He introduced a new game involving an 'object of desire,' represented by Arjun, who made a special appearance on the show. Ranbir and Ranveer were asked about being on dating site Tinder, kissing a friend's girlfriend and more. Karan introduced Arjun, who has already been on the previous episode of the show, as "the sexiest thing that walks the corridors of Yash Raj Studios" and asked the competing boys to: "straighten up."
Meanwhile, Arjun, who co-starred with Ranveer in
Gunday
, made a confession: "I'm feeling violated already."
Now, Ranbir Kapoor has already hogged the headlines by saying he hoped Ranveer Singh and rumoured girlfriend Deepika Padukone (whom Ranbir dated earlier) would make 'awesome babies' but there were plenty other moments from the show that were equally epic. We've turned them into GIFs.
Here's how Ranbir and Ranveer dealt with 'blasphemous situations:'
Situation 1: Have you ever made out in a changing room?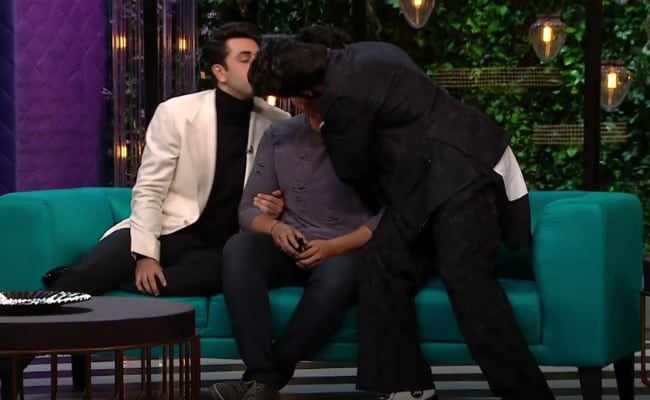 Ranbir took a while to react when given the situation "slept with my friend's girlfriend" and then this followed: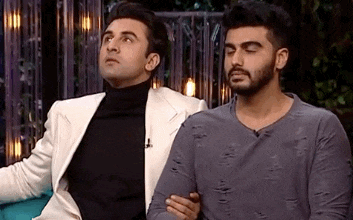 Ranbir Kapoor and Ranveer Singh
were asked to dance to Salman Khan's
O O Jaane Jaana
. Ranbir had it covered, replicating exact Salman-style steps even before Ranveer could start. PS: Ranbir even made use of the invisible towel which was also used by a bare-bodied Salman in the original video. But given that Ranbir has personal experience of towel dancing from
Saawariya
, perhaps he had an unfair advantage here.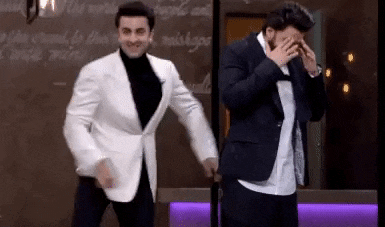 Ranveer stole the show in the
Chikni Chameli
dance-off which both the actors were challenged to. For the uninitiated,
Chikni Chameli
is a song starring actress Katrina Kaif from the Karan Johar-produced film
Agneepath
. Ranbir reportedly broke up with Katrina some months ago.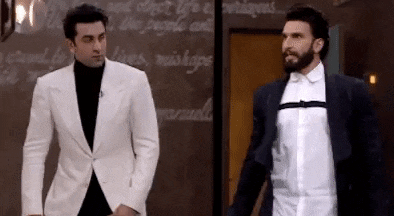 During the much-talked about Rapid Fire Round on the show, Ranveer was told that Shah Rukh Khan is a big fan of his, except for his personalised underwear, which he wore on the sets of
Befikre
. Ranveer's reply involved something on the lines of saving Yash Raj Films some post production costs while editing. Erm.
Ranbir has never been more proud of Ranveer.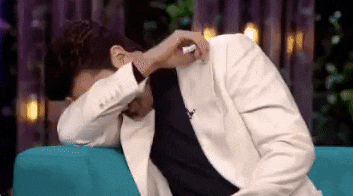 Before the show began,
Ranbir and Ranveer
were stationed inside the show host's changing room. Joote padenge, Karan Johar, for leaving them alone. Only God and the camera knew what they got upto.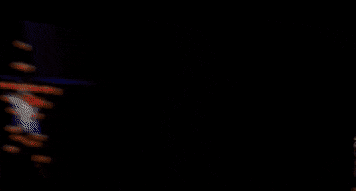 We have hand-picked Ranbir's reaction when he was asked if he has ever drunk-dialled an ex.
Both Ranbir Kapoor, 34, and Ranveer Singh, 31, have been the Koffee couch but separately - Ranbir twice and Ranveer once so far.