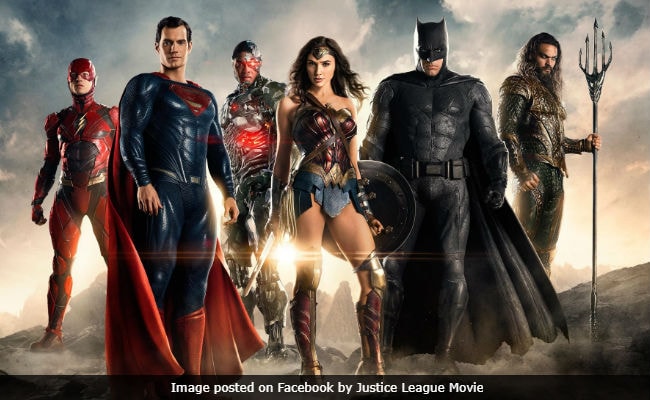 Cast: Ben Affleck, Henry Cavill, Amy Adams, Gal Gadot, Ezra Miller, Jason Momoa, J. K. Simmons
Director: Zack Snyder
Rating: 2 stars (outs of 5)

One of the most fantastically absurd things about the 1960s Batman television show is the way Cesar Romero, who plays The Joker, does so defiantly with a moustache in place. Known in his youth for playing a Latin lover, the actor - who could, it is said, rival Fred Astaire on the dance floor - refused to shave his moustache, and thus the man who played The Joker on screen the most often did so with white facepaint barely hiding his hairy upper lip. This is patently silly, but it worked because that loony show was in on the joke.

In Justice League, a behemoth of a film which features some of the most iconic heroes of all time, Superman has a moustache. Only he doesn't.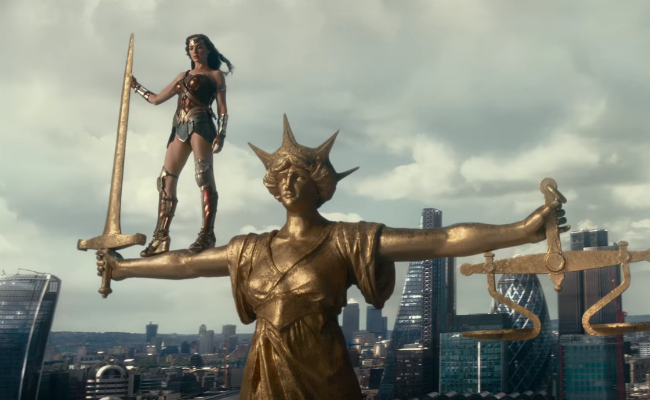 Henry Cavill, who plays the big blue boyscout, had finished shooting for Zack Snyder's blockbuster and gone on to do something that required a moustache, and when (many, many) reshoots beckoned, he wasn't contractually allowed to shave his upper lip. In order to keep Supe from looking like unfunky Freddie Mercury, he was digitally de-whiskered. This should not be a tall order, given how superhero movies nowadays de-age Kurt Russell or de-muscle Chris Evans.... Yet this virtual waxing is so awkward that Superman looks part-puckered, part-botoxed, constantly uncomfortable. It's as if Lex Luthor paid off the effects team.

Look, after many movies and several hours of dour shadowy filmmaking and much gravel-voiced misery spent in setting up the DC cinematic sandlot, this Justice League finally and belatedly has jokes. It really does. It just doesn't seem to be in on them. It's as if they decided to lighten things up because of how well those other superhero movies were doing, but these quips - so, so many quips - don't sit well at all in this grave new world.




It is hard to turn on the cheer in a film that starts with a somber funeral. After the events of
the lunkheaded Batman V Superman
, Superman is dead and there is overwrought slow-motion grief, set - in characteristically literal Snyder style - to a gloriously written song sadly pasted on here for obvious and exponential reasons. The song here is a squeaky cover of Leonard Cohen's Everybody Knows, and the words - 'Everybody knows the war is over, everybody knows the good guys lost' - are painfully on the nose. (If only the filmmakers could also look under that nose and giggle.)
Anyway, there is a new villain in town. He's a hulking monster called Steppenwolf - born to be riled, I'd say - and he is after three all-powerful MacGuffins called Mother Boxes. (I presume they are called thus because Infinity Gems were taken and Martha Boxes sound too ridiculous even for DC films.) This means Batman and Wonder Woman have got to put a team together to stop this menace, and as heard-it-all-before premises go, this setup has obvious appeal. This is also a film with very talented actors who are all given enough to do, so here's the truth: Justice League is not a bad film. Honest.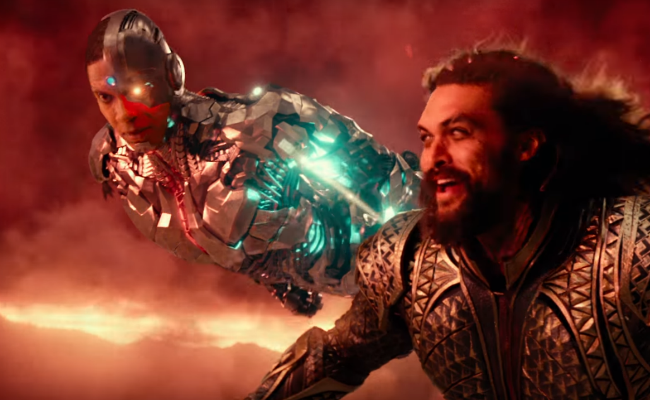 It falls well short of being a good film, however, on every level. Despite Gal Gadot still winning us over as Wonder Woman who takes charge of these silly men, despite Jason Momoa playing Aquaman like a wet The Rock, despite Ezra Miller conjuring up genuinely funny sparks as Flash... this is a film that refuses to make sense. The plotting is nonsensical, the action sequences are generic, the villain is forgettable and the narrative flow is choppier than seawater - which, in turn Aquaman would have liked; there is none, so he's basically a big guy with his trident reduced to a fork Batman laughs at. The film never makes up its mind about committing to the heavy metaphors about death of God and a world without belief, its lofty dramatic ideals compromised by what appears to be a sudden desperation to seek out cheap laughs. After years of resistance and mocking the other big comics studio, this is also the first DC film with post-credit scenes. Read into that what you will.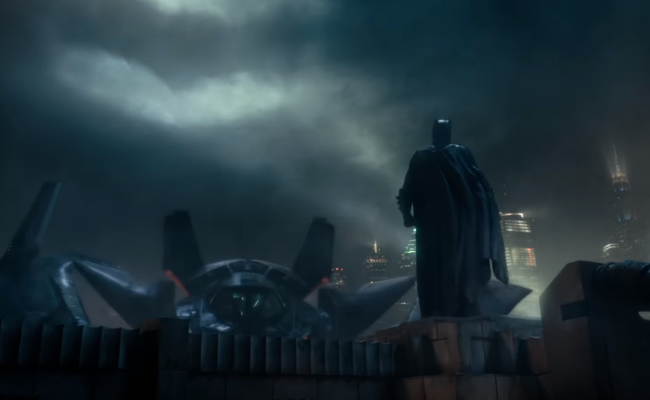 They got the lady who made Wonder Woman and the guy who made The Avengers to come in and make this their story too, but the mess is singificant and, due to there being too many cooks, this is possibly more inconsistent than a solo Snyder film would have been. After the way we lauded the striking lack of male gaze in Patty Jenkins' Wonder Woman, Justice League fixates disappointingly on Gadot's posterior, legs and on Amazon warriors now dressed far skimpier than in the WW movie a few months ago. This is a film that ogles when it should admire, and we all know the difference now.

Putting a team together isn't just about finding the biggest trump cards. It's about knowing what makes them big, and what hand to play. This one folds.