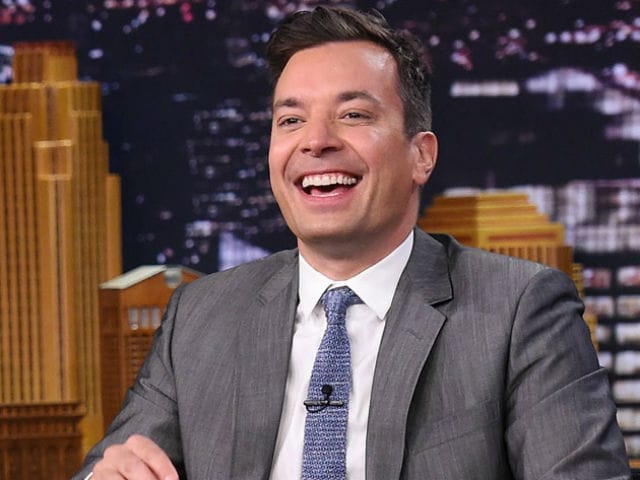 Highlights
Jimmy Fallon to present the 2017 Golden Globes
He confirmed his involvement on Twitter with a swipe at Donald Trump
His appointment marks a departure for the awards
Los Angeles:
Jimmy Fallon, host of
The Tonight Show
, will kick off Hollywood's annual awards season as the presenter of the 2017 Golden Globes, organizers announced on Tuesday.
Jimmy is a veteran of the glittering event, having had handed out awards in a variety of categories, most recently in 2014. He also hosted the 2010 Prime time Emmy Awards.
The three-hour ceremony organized by the Hollywood Foreign Press Association (HFPA) airs live on NBC from the Beverly Hilton in Los Angeles on January 8.
"We're thrilled to announce Jimmy as host of the 74th Annual Golden Globes," Robert Greenblatt, chairman of NBC Entertainment, said in a statement.
"This is the most spontaneous and uninhibited award show on television, and Jimmy's playful, disarming comedic brilliance makes him the ideal host to enhance and elevate the sense of fun and irreverence that's made the Golden Globes one of the premier events of the entire broadcast year," he added.
True to form, Jimmy confirmed his involvement in the awards on Twitter with a mischievous swipe at Republican presidential nominee Donald Trump. Jimmy Fallon tweeted:
I'm so excited to be hosting The Golden Globes in January.

— jimmy fallon (@jimmyfallon) 2 August 2016
And I'm really looking forward to spending time with the Hollywood Foreign Press before Donald Trump has them all deported.

— jimmy fallon (@jimmyfallon) 2 August 2016
Jimmy Fallon's appointment marks a departure for the awards, which have alternated between two hosting choices for the last seven ceremonies.
British comedian
Ricky Gervais, master of ceremonies
from 2010-12 and then again earlier this year, earned some praise for his irreverent jokes at the expense of the stars, although he was at times a polarizing presence in the room.
Tina Fey and Amy Poehler presented
three times from 2013.
The 2016 ceremony pulled in 18.5 million viewers in industry tracker Nielsen's live plus same day ratings.
"Jimmy Fallon is an exceptionally talented and dynamic entertainer and we couldn't be more excited that he'll be hosting the 2017 Golden Globes," said Hollywood Foreign Press Association president Lorenz Soria.
"His charm, wit and incredible spontaneity will play exceedingly well both to everyone at the show as well as the millions watching at home from around the world," she added.
(This story has not been edited by NDTV staff and is auto-generated from a syndicated feed.)