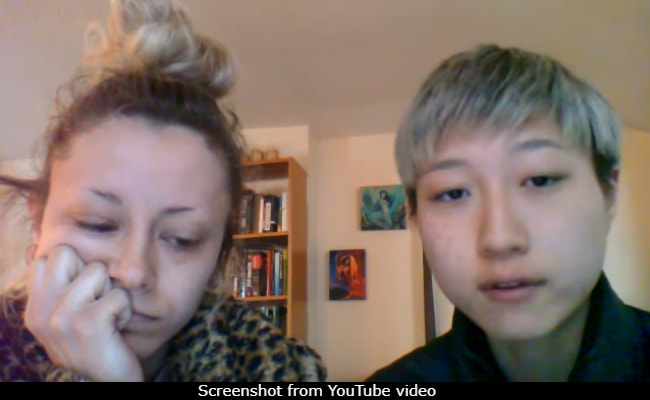 Highlights
"Now, I can only turn to the internet for help," Etta Ng said
"I have asked all my friends for help," said her girlfriend
Etta Ng is Jackie Chan's daughter with Elaine Ng Yi Lei
New Delhi:
In a YouTube video (which is crazy viral now) posted last week, Jackie Chan's estranged daughter Etta Ng Chok Lam and her girlfriend Andi Autumn have turned to folks on the Internet to ask for help, saying that they are on the verge of going homeless. Etta Ng, who reportedly moved to Canada with Andi after she came out as lesbian in October last year, added in the caption of the video that the acquaintance who has been providing them with lodging, is no longer able to help them and that they are asking for assistance on the Internet as help has been denied to the couple from whoever they have reached out to recently.
"At this point we have nowhere to go because the friend of Andi's that is helping, can no longer house us. We understand people who are busy but this is a bit much. And now I can only turn to the internet for help as there is strength in numbers," read a part of the caption that the video has been uploaded with.
In the video, 18-year-old Etta Ng can be heard saying: "I don't even understand what's happening because we have gone to the police, we have gone to the hospital, the foodbanks, the LGBTQ communities, shelters and all of them just don't give a s**t." She added: "We've been homeless for a month due to homophobic parents. We pretty much slept under a bridge and other things."
Andi Autumn, who is referred to as a 30-year-old social media influencer and teacher from Canada in several reports, also joined in to add: "I have asked all my friends for help and all my family for help and everyone just keeps sending us to the direction of shelters where they know we will be split up."
Etta Ng is Jackie Chan's daughter with actress and former beauty queen Elaine Ng Yi Lei with whom the
Rush Hour
star had an affair with, following which Etta Ng was born in 1999. Jackie Chan has been married to Joan Lin since 1982 and the two have a son named Jaycee together. In August 2014, Jaycee was arrested for his involvement in a drug abuse case in China. He served six months in jail after he was found guilty of drug abuse and also charged for allowing others to take drugs at his residence in Beijing. After his jail term, Jaycee was released in February 2015 following which he apologised for his involvement in drug abuse.
Before Etta Ng switched places, she reportedly dropped out of school because of her troubled relationship with her mother. Meanwhile, in an interview with
Coconuts
, Ng's mother Elaine alleged that Etta required medical help and that she's been skipping consulting a doctor since she moved out of Hong Kong: "Etta has emotional problems. She was seeing a doctor last year, but she hasn't gone to therapy since she left Hong Kong."
Elaine also suggested that the couple should start working to earn their own living instead of referring to Jackie Chan in any way for financial help: "I feel that if they have no money, they should go find work. They shouldn't film a clip telling others they are broke and who Etta's father is. People all over the world work hard and don't rely on someone else's fame to get money," she told
Coconuts
.
Watch the video here:
There's been no response from Jackie Chan on the matter yet.