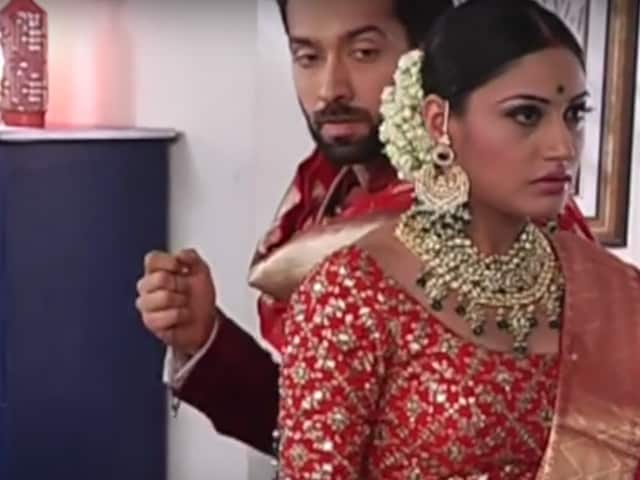 Highlights
Shivaay revealed he staged the entire wedding
Anika has been pretending to have lost her memory
The entire masterplan was formulated by Anika
New Delhi:
The
Ishqbaaz
episode, which aired on television on Thursday, kicked off on a dramatic note with both Shivaay and Anika making many a stunning revelations. Shivaay, who apparently got married to Tia, revealed that he staged the entire wedding with his younger brother - who pretended to be the
pandit
and faked the wedding. In another shocker of a surprise, Shivaay revealed that Anika has been pretending to have lost her memory, so that she can get close to Tia and make her share details of her pregnancy. So far, Tia was pretending to be pregnant with Shivaay's baby. The entire masterplan was in fact formulated by Anika, who convinced Shivaay otherwise about Tia's pregnancy.
Anika also shared that she learnt Tia is actually expecting her first child with her former husband Dushyant. On investigating the matter,
Shivaay and Tia learnt that Dushyant has been kept captive
by Mrs Kapoor but before they could rescue him, Dushyant was moved to another place. Mrs Kapoor denied all allegations when Tia broke down and admitted that she never was really in love with Shivaay and was only following her mother's orders. She also added that their plan to destroy the Oberois was in order to seek revenge for her father's death, who used to work for the Oberoi's and was killed in an accident.
However,
all this was confirmed
when Dushyant arrived at the wedding and Tia was left surprised. She left the
mandap
and rushed to greet Dushyant. Later, Tia apologised to Shivaay and to all the Oberois for their behaviour and asked to be forgiven. While Mrs Kapoor shunned away Tia, Shivaay's comforting behaviour was suggestive of the fact that Tia is safe with the Oberois.