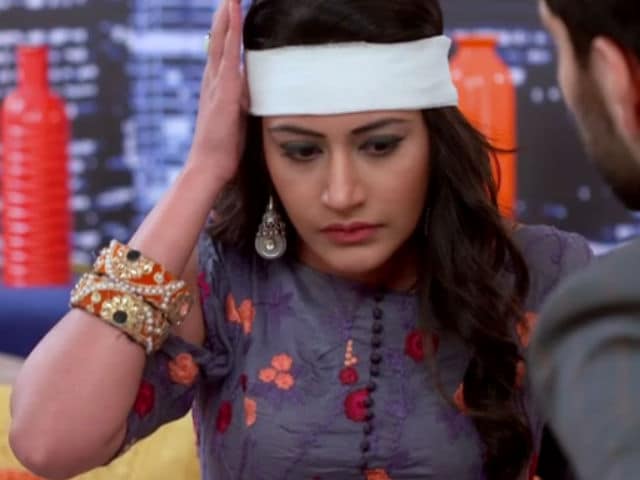 Highlights
Shivaay accidentally pushes Anika off the first floor
Anika cannot remember who she is and doesn't trust anyone
Tia takes advantage of the situation and befriends Anika
New Delhi:
Anika stops Shivaay from signing the trust deal. She says Tia is trying to coax money out of him but Tia says that the money is for the baby. Anika says that the baby is not Shivaay's and he shouldn't have to pay for the trust. Tia throws a tantrum and Shivaay insists on signing the deal. Anika snatches the papers and run towards Nani's room. Shivaay follows her and tries to get the papaers back. He asks her to stop interfering in his life. He pushes Anika aside who falls from the first floor. Shivaay is aghast while Tia smirks.
Rudra and Omkara reach in the living room after they heard Shivaay yelling Anika's name. A doctor is called to visit Anika while the rest of the family waits outside the room. The doctor allows Shivaay to meet Anika. Shivaay apologises to Anika and says he didn't mean to push her so aggressively. Anika is unable to recognise Shivaay or even herself. At first Shivaay thinks that Anika is joking but she has actually lost her memory.
Shivaay tells everyone that Anika has lost her memory and the doctor has informed her that often people lose their memory after an impact injury on their head. Tia is happy that Anika has lost her memory while the others get busy planning how to help Anika and get back her memory.
Svetlana goes to Anika's room stealthily and drops a letter on a bedside table. She knocks on the window to get Anika's attention, who spots the letter. In the letter Svetlana writes that no one's a friend and that someone's trying to kill her. She also wrote that the killer will come to her pretending to be a friend.
After a while Dadi suggests that they speak to Anika and help her out. As Dadi, Rudra, Omkara and Shivaay enter the room, Anika becomes more uncomfortable. She refuses to believe them and runs away from the room. Shivaay gets hold of Anika, who insists that he's her enemy and wants to kill her. Shivaay says he's not her enemy but Anika doesn't believe him.
Anika was hiding in the home and Tia comes over and introduces her as her well-wisher. Tia confirms that Anika is not bluffing and once assured she tells Anika that she's in danger. She tells her that she came here to work and the family has now captured her. There have been many attacks on her. Tia says that she wants to help her out because she's a woman. She tells Anika that her name is Kalavati Thakur. She warns Anika that people here will lie to her but she mustn't believe them.