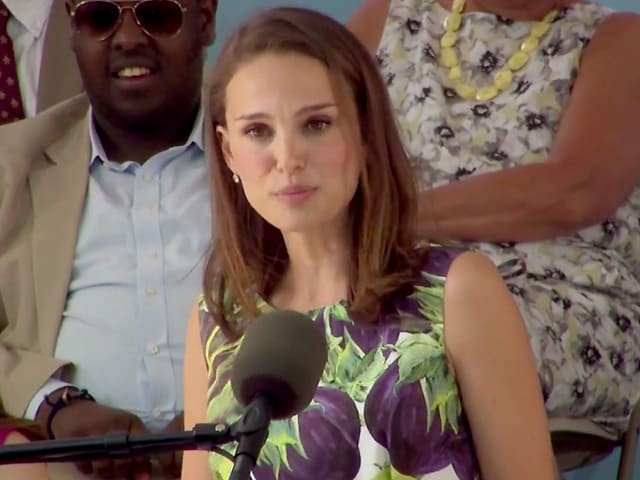 Actress and Harvard alumnus Natalie Portman began her commencement speech to Harvard's graduating seniors with a disclaimer. "This is not going to be funny, I am not a comedian," she said. Turns out, she managed to raise several chuckles with references like the one quoting her own email about being invited to speak at Harvard, leaked in the Sony hack: "Wow, this is so nice. I'm going to need some funny ghostwriters. Any ideas?" Or the one about her own Class Day experience listening to Will Ferrell: "Many of us, hungover or even freshly high, mainly wanted to laugh."
Jokes apart, the 33-year-old actress kept it real, speaking about 'being insecure about (her own) worthiness,' feeling like an 'imposter' and being 'woefully underprepared' for her Oscar-winning role in
Black Swan
.
It's been 12 years since Natalie graduated from Harvard and when she enrolled in the university, she had already appeared in
Star Wars: The Phantom Menace
. She spoke about how the lack of anonymity brought with it potentially crippling self-doubt. "Today I feel much like I did when I came to Harvard Yard as a freshman in 1999. I felt like there had been some mistake, that I wasn't smart enough to be in this company, and that every time I opened my mouth I would have to prove that I wasn't just a dumb actress. I got in only because I was famous. This was how others saw me, it was how I saw myself," Natalie said in her speech.
She addressed insecurity and the lessons learnt: "Sometimes, your insecurities and your inexperience may lead you, too, to embrace other people's expectations, standards or values. But you can harness that inexperience to carve out your own path, one that is free of the burden of knowing how things are supposed to be, a path that is defined by its own particular set of reasons."
Natalie, who graduated with a degree in psychology, went from staying up all night in the Harvard library to starring in director Darren Aronofsky's 2010 drama
Black Swan
- her casting in which she attributes to not knowing her 'limitations.'
"When Darren asked me if I could do ballet I told him that I was basically a ballerina, which by the way, I whole-heartedly believed," Natalie said, adding, "If I had known my limitations I never would have taken the risk."
Black Swan
turned out to be an instructive lesson in life skills. "The only thing that separates you from others is your quirks or even flaws. Someone will always have a higher jump or a more beautiful line. The only thing you can be the best at is developing your own self," Natalie said in her address.
Watch her entire speech here: