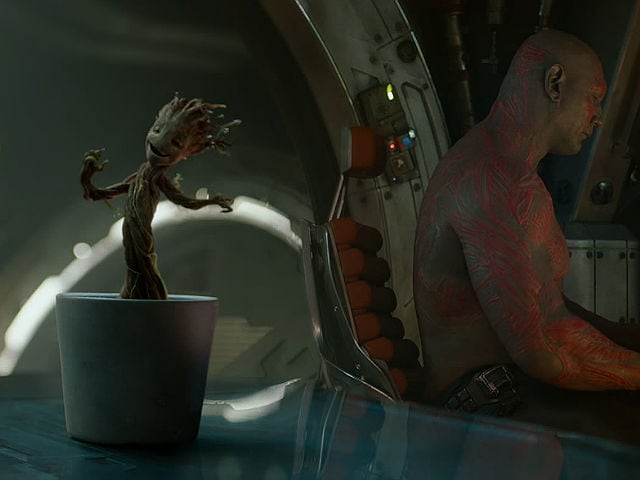 Washington:
As a music-loving child of the '70s and early '80s, James Gunn has an especially fond spot in his art for Electric Light Orchestra. Yet a change to his 2014 Disney/Marvel smash
Guardians of the Galaxy
could have cost him a shot at using an ELO song.
One of the most
memorable scenes in Guardians of the Galaxy Vol 2
is the opening credits, as Baby Groot (
as minimally voiced by Vin Diesel
) dances to the ELO hit
Mr. Blue Sky
. Landing the rights to the track, though, was not entirely blue skies.
That's because Gunn, the director of the planned
Guardians
trilogy, had ultimately passed on including a tune from Jeff Lynne, the leader of ELO, in his first
Guardians
film.
"We got the rights to the first one" - the 1976 ELO hit
Livin' Thing
-- "but I cut the scene," Gunn tells The Washington Post. Thus, the cutting-room floor last time nearly undercut the cinematic dance floor this time.
"It was a whole montage around
Livin' Thing
, and it was awesome," Gunn continues. "To be honest, I think I regret cutting the montage from the movie. I think people would have loved it. I would have loved to put it on even on (just) the Blu-Ray - but you have to pay hundreds of thousands of dollars for the song, and we couldn't afford to do that just for the Blu-Ray."
Fast-forward to the sequel. TeamGunn approached Lynne again for the rights to a different tune.
The ELO leader initially balked, however, says Gunn: "He was hesitant because we had cut
Livin' Thing
." The director, though, says he believes Lynne is happy with how it all turned out.
And last week, as ELO was inducted into the Rock and Roll Hall of Fame, Lynne and the band played
Mr. Blue Sky
as part of their celebratory set - a winning performance marking the song's return to the zeitgeist's center spotlight.
©2017, The Washington Post
(This story has not been edited by NDTV staff and is auto-generated from a syndicated feed.)