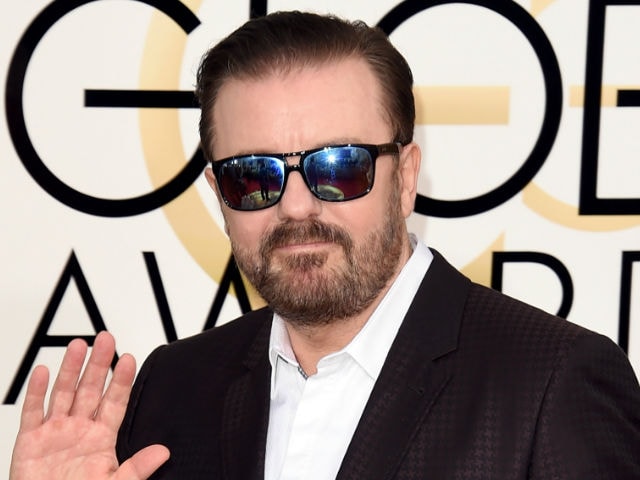 Los Angeles:
"Kill me," moaned Golden Globe host Ricky Gervais, far past the point-of-no-return of Sunday's schlocky telecast of Hollywood's most meaningless (but by reputation loosey-goosiest) awards show. But the thing is, nobody really wanted to kill him for anything he said during the show - and only in this day and age could that could be seen as a disappointing breach of contract. We've developed a bad habit in our culture now, bleeding into our politics and our civil discourse as well as some of our awards shows: We demand the worst, so we get the worst.
Kill me, I hate this, this show sucks - that's been Gervais's M.O. ever since he took NBC and the Hollywood Foreign Press's presumably lucrative offer to return to the job - pretending that it's a lousy gig, that the Golden Globes's tackiness and NBC's obsequiousness to celebrityhood is somehow beneath him (beneath us all), and that it is, in short, an utter waste of three hours. He's not wrong about most of that.
Still, Gervais' tired shtick of demand-resistance had some viewers - and certainly network executives - rubbing their hands in anticipation of the faux-theatrics: What would he say? How terrible and cruel would his jokes be? Such worry! Such fear! Tune in! (Also Read:
Ricky Gervais' Cruelest Golden Globe Jokes, Ranked
)
Joke's on you, viewer. Gervais' monologue was relatively tame and comparatively toothless, succeeding mainly as proof that jokes about transgender people, real or fictional (as in Caitlyn Jenner or Jeffrey Tambor's character in Amazon's
Transparent
) have lost most of their potency. Or that digs at salary disparity between female and male box-office and TV stars are more sad than funny.
Gervais' best jabs of the night were directed at NBC itself ("The only network with zero nominations") and Mel Gibson, who made a rare appearance on a Hollywood awards-show stage (to introduce a clip of best picture nominee
Mad Max: Fury Road
). The forever-tarnished Gibson, of course, is irresistible catnip to Gervais. NBC's trigger finger on the time-delay button zapped part of a seemingly spontaneous exchange in which, according to reporters who heard it on the live TV feed at the Beverly Hilton ballroom where the awards are held, Gervais asked a rhetorical question about Gibson's infamous sobriquet directed at a female police officer who'd arrested him for drunk driving in 2006. (Also Read:
How Ricky Gervais Provoked Hollywood at Golden Globes
)
On the plus side, and without any help from Gervais, the show fulfilled part of its reputation as a messy, boozy, smarmy kind of night. Lady Gaga, who won for her performance in the dreary recent season of FX's anthology drama
American Horror Story: Hotel
pronounced herself a serious actress. Some weird stuff won in the TV categories, such as Amazon's unimpressive dramedy
Mozart in the Jungle
. (There were also some gratifying nods to critical faves, like USA's
Mr. Robot
and Maura Tierney's fantastic performance this season in Showtime's
The Affair
and Jon Hamm's satisfying final run as Don Draper on AMC's
Mad Men
.)
Teleprompters malfunctioned, microphones failed, Taraji P. Henson jumped up and handed out what appeared to be her table's pile of untouched dinner rolls (no one in Hollywood eats bread) as she headed for the stage to accept a well-deserved best actress award for Fox's
Empire
. (Were the rolls supposed to be cookies? As in Cookie Lyon, her character?) As Tina Fey and Amy Poehler have recently demonstrated when they hosted the Globes, all you really have to do is keep the wine glasses full and get out of the way.
Bringing Gervais back to the Globes reminds me of another recent and entirely cynical move on NBC's part in November, which was letting a front-runner in the presidential campaign, Donald Trump, host
Saturday Night Live
- not just making a cameo appearance in a sketch, as other politicians have done before, but placing him front-and-center, essentially selling the show on his name and image and popularity as a unhinged force of nature.
Gervais' screen time Sunday night is probably roughly comparable to Trump's, measurable in minutes rather than hours, but it sends out exactly the same message: The more loathsome and potentially offensive your host, the better chance you have at big ratings, the trendier the tweets, the higher the clicks. There's something base and culturally sadomasochistic about asking the bully back to the microphone. But that's who we've become - the viewing public who will only pay attention if we think someone will be mean and cutting.
Gervais acted like he was the one being made to suffer, but truly this misery is shared all around.
© 2016 The Washington Post