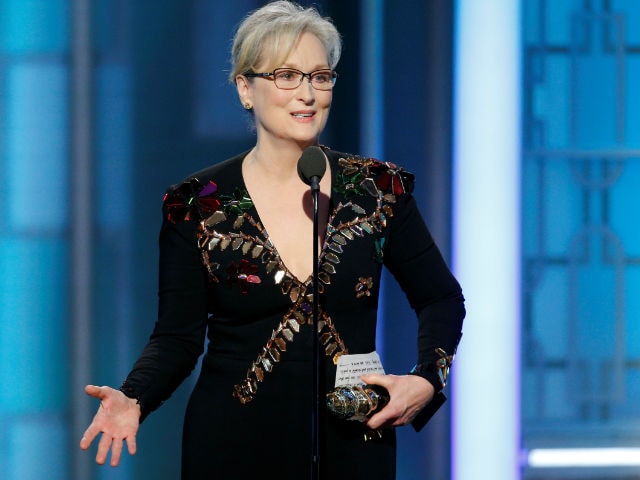 Highlights
Meryl Streep received the Cecil B DeMille award
She spoke about diversity in Hollywood
"Disrespect invites disrespect," said Meryl Streep
New Delhi:
Donald Trump will want to take note of actress Meryl Streep's speech while receiving the Cecil B DeMille award
at the Golden Globes
held in Los Angeles on Sunday night (early Monday for some of us). The 67-year-old star delivered a blistering attack on the President-Elect of the USA, slamming his 'instinct to humiliate' in a speech that didn't name Trump but made it only too clear who she meant when she said she had been 'stunned by one performance.' Ms Streep referenced Hugh Laurie's acceptance speech in which he said this was surely the last Golden Globes, an award show presented by the Hollywood Foreign Press Association - an oblique comment on Donald Trump's xenophobic agenda. Ms Streep spoke about the diversity in Hollywood, from Amy Adams and Natalie Portman, born in Italy and Jerusalem, to Ruth Negga and Dev Patel, born in Ethiopia and Kenya. She ended her speech by quoting her friend, late actress Carrie Fisher.
Ms Streep, who apparently had a throat infection, said she "lost her voice" and "mind sometime earlier this year," and therefore read from her notes.
Here are top five quotes from Meryl Streep's acceptance speech at the Golden Globe Awards:
1. "If we kick them ("outsiders" in Hollywood) all out, we'll have nothing to watch except for football and mixed martial arts, which are not the arts"
2. "It was that moment when the person asking to sit in the most respected seat in our country imitated a disabled reporter - someone he outranked in privilege, power, and the capacity to fight back. It kind of broke my heart when I saw it." In an infamous campaign speech, Donald Trump mocked a differently-abled reporter (the Republican president-elect denies the incident took place).
3. "This instinct to humiliate, when it's modelled by someone in the public platform, by someone powerful, it filters down into everybody's life, because it kind of gives permission for other people to do the same thing"
4. "Disrespect invites disrespect, violence incites violence. When the powerful use their position to bully others we all lose"
5. "As my friend, the dear departed Princess Leia, said to me once, 'Take your broken heart and make it into art'."
Watch Meryl Streep's full speech at the Golden Globe Awards
At tonight's #GoldenGlobes we honor Hollywood legend Meryl Streep with the prestigious Cecil B. Demille Award. pic.twitter.com/dxpeCDNXY6

— Golden Globe Awards (@goldenglobes) January 9, 2017
Viola Davis, who won Best Supporting Actress for
Fences
and co-starred with Meryl Streep in Doubt, presented the award to Ms Streep, who has won eight Golden Globes and been nominated 29 times so far. The annual Cecil B DeMille Award honours those with "outstanding contributions to the world of entertainment." Previous recipients include Denzel Washington, George Clooney, Woody Allen, Jodie Foster, Morgan Freeman, Robert De Niro, Martin Scorsese, Steven Spielberg and Warren Beatty.
Meryl Streep was also nominated this year in the Best Actress - Comedy/Musical category for her performance in Florence Foster Jenkins. The award was won by Emma Stone for
La La Land
.