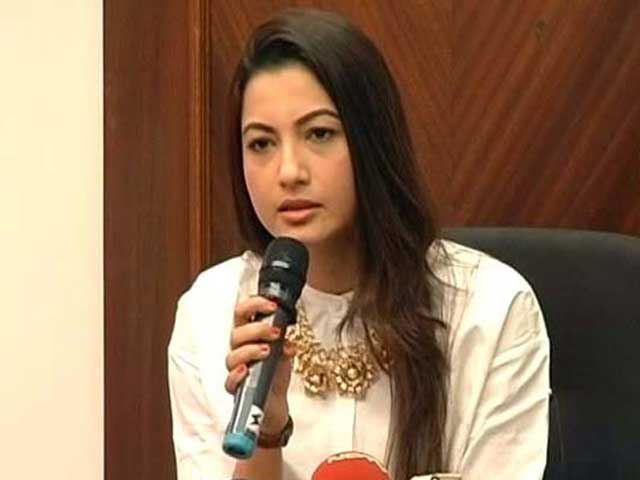 New Delhi:
Actor and model Gauahar Khan addressed the media in Mumbai today to speak about being attacked by a man "for wearing short skirts" on the sets of reality show India's Raw Star. Gauahar said that while she is not promoting any kind of dress code, no one had the right to hurt, torture or attack anybody.

An incensed Gauahar said, "Yes I was attacked, the physical aspect being a major part of it, but what that coward tried to do to me mentally was even more grave. He attacked my integrity and tried to camouflage his cowardice by his rubbish claims of wanting to send out a message of hat he thought the youth of Indian needed today. Who allowed the moron to decide what the world should be doing. Why doesn't a loser like him have the fear of the law before he decides to attack a girl who is unarmed, unprepared and someone who is trying to do her work to the best of her ability."

"He apparently attacked me because I was an actress. I'm not here to promote any kind of dress code. I'm only here to say no one has the right to hurt, torture or attack anybody. If actresses are under the radar of such harmful mindsets then how would the common girl or women be saved," she added.

"This loser doesn't represent my beautiful faith which in itself means peace and submission," Gauahar said while stating that she fully trusted the judicial system of the country.


Fighting back tears, the actress said, "I completed the shoot only to send a message to all women of India to stand up against such incidents and keep their head held high. I thank my family, friends, fan media and the film industry for all their love and support assure you all that I'm hurt but not out, shocked but more determined. Injured but stronger than ever."
Gauahar blamed child rearing practices for the attitude of men like the one who attacked her and said, "Every boy must respect women, no school teaches that. They learn this from how their sisters are treated and how their parents treat them."
She further blamed the lack of strong law enforcement for incidents such as these and stated, "We don't have laws which instill fear and act as a deterrant. If he gets away with this time, he will do this with another girl."
The actress said she felt the pain of all women who had to go through any kind of moral policing adding that she completed the shoot post the attack only to send a message to all girls "that you continue with your head held high."
Gauahar's attacker, a man named Akil Malik, slapped the actress as she was hosting the final episode of India's Raw Star last Sunday in front of an audience of 2,500 and 250 bouncers. He was immediately overpowered by security guards deployed there, following which the police were notified and he was arrested.
Watch