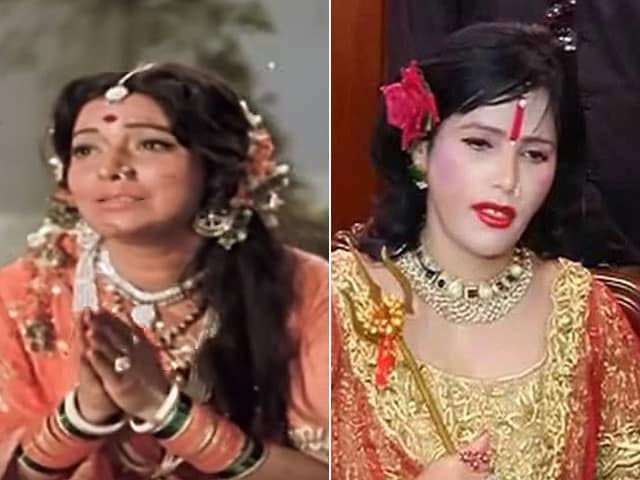 New Delhi:
In the 40 years since we first met Jai, Veeru, Basanti, Gabbar and Thakur, their saga is ingrained in public consciousness. A generation before, a generation after and the one in between, all in sync with
Sholay
's cult like status - a repeat value that few films have been able to match.
As the embers of
Sholay
still burn bright, let's spare a thought or two for the other films of 1975. It was also the year when Bollywood's Angry Young Man made his way into the screens embodying the spirit of the times as the brooding Vijay of Deewar. If it's been 40 years since "
Kitney aadmi they
?," it's also been four decades since Vijay was rebuked by his honest brother with the classic line "
Mere paas maa hai
."
But giving
Sholay
and
Deewar
a run for its money was indeed the mother of all hits - the mythological
Jai Santoshi Maa
, matching the other two mega hits at the box office.
One of the biggest grossers of 1975,
Jai Santoshi Maa
was no ordinary mythological fare. It addressed the complications of India's social fabric and the place of women in it moons before
Kyun Ki Saas Bhi Bahu Thi
and
Kahani Ghar Ghar Kii's Tulsi
and
Parvati Bhabhi
gave us a potpourri of myth, reality and melodrama, cajoling their suppressed sisters to awaken to the '
Shakti
,' the smouldering energy within.
The premise of
Jai Santoshi Maa
was the saga of Satyavati, married to sweet-natured simpleton Birju, who suffers the taunts of her calculating
Bhabhis
, the fault in her stars being her husband's inability to hold a job, being blind-sided by his brothers who were under the spell of their evil wives. As his wife silently suffers the taunts and humiliation, her husband brushes it off as "
Bhabhi ka aashirwad
." Till destiny puts them at a cross-roads and Birju awakens to being slighted, promising to avenge Satyavati and his humiliation.
Leaving for the city to seek fortune, he leaves Satyavati to fend for herself under the dominance of the "
Bhabhi Log
." As she toils and labours, she takes recourse in divinity, observing "solah Shukrawaar,"a fast which would give you what you desire if you did it with the utmost faith. As she endures, her forbearance pays rich dividends. Birju returns years later, suffering a memory loss but laden with riches. The
Bhais
and
Bhabhis
are subject to Karma's court. But being the ideal couple, Satyavati and Birju plead to the Almighty to spare their "misled" family - after all it was all about forgiving your family.
The movie left such an impact that observing "
solah Shukrawaar
" became a raging trend and the story of Satyavati (from the film, of course) became part of the
Santoshi Maa Katha
, printed by small time publishers wanting to make a quick buck.
The famous song "
Main Toh Aarti Utaaron Re Santoshi Maata Ki
" from the film was a chartbusting success. As the Angry Young Man took on the socio-economic establishment, his female counterpart in Jai Santoshi Maa addressed the socio-economic fabric at home. It was a pitting of materialism vs spirituality, as one taunted the Almighty for his destiny and became a quasi-messiah (remember Amitabh Bachchan from
Trishul - "Khush toh bahut hoge"
) only to be brought to his knees as Satyavati made the divine her ally in getting her wayward hero back on the right path.
In a society grappling with socio-political and economic crisis, unemployment, poverty, political discontent, changing family dynamics with the joint family's fraying fabric making way for the rise of the nuclear family, films represented the changing ethos on screen. Mythological films, in particular, were a soothing balm, the call to keep the faith. Manoj Kumar's
Shirdi Ke Sai Baba
in 1977 was a box office hit, with crowds thronging theatres to watch the life and times of the 19th century seer.
Over the years, a reversal of sorts took place with the popularity of mythological films dwindling but their heroes transplanted to real life. The demigod-like status that heroes and heroines of religious films achieved on screen trickled out on ground, with self-proclaimed 'godmen' and 'godwomen' who advocated their hotline to the Almighty.
In 2012, director Umesh Shukla challenged the notions of God as defined by those who said they knew Him best in
OMG - Oh My God!
The film's premise - a man who decides to sue God and his representatives, a motley crew of priests and godmen.
Oh My God!
struck a chord amongst the audience but also had a few fanatics petitioning the courts for the cure to every malady, a ban.
Rajkumar Hirani followed suit with PK, a film which addressed the same issue as seen from the eyes of an alien.
In a world where we were happy to have the
Avengers
and our desi homegrown Krish and G.One fighting the bad, there was another twist in the divine tale. Spiritual leader and social reformer Gurmeet Ram Rahim decided to switch roles. The head of the religious sect Dera Sacha Sauda made his film debut in the self-produced and directed mega-budget
MSG: The Messenger
. The rockstar Baba sang, danced and showed off his powers in a three-hour-long self-eulogy. As religious groups protested that a human could not call himself God and critics refused to review the film, the self-proclaimed 'godman' said his intention wasn't to hurt anyone's sentiments.
If that one left you scarlet-faced, we have another self-styled godwoman named Radhe Maa, whose love for all things Bollywood from songs to fashion is well known. Radhe Maa is now embroiled in a seething tornado of controversies that range from a photo of her dressed in a mini skirt to allowing fans to hug, kiss and carry her, to allegations of dowry harassment.
Unsurprisingly, a Bollywood producer has declared his intention to film a biopic of Radhe Maa although the actress he claims to have cast - Mallika Sherawat - has disowned the role. So, as the deities remain relegated to their altars, it's the self-touted godmen and woman who seem to be aspiring for screen space on celluloid. Any takers?