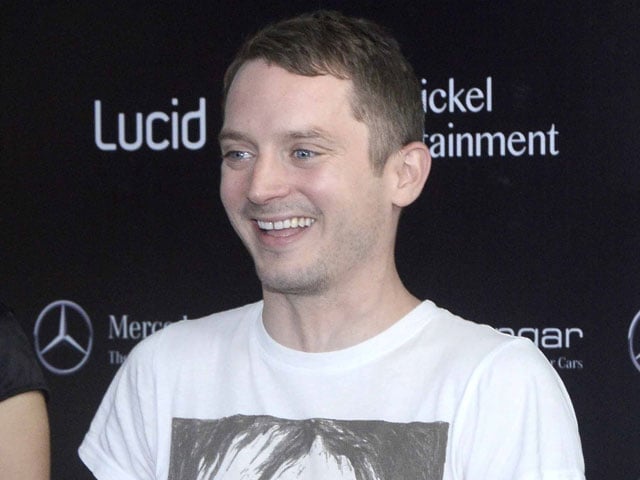 New Delhi:
Unassuming and totally at ease, Elijah Wood realises that people in India know him better as Frodo from
The Lord of the Rings
than anything else. "I am totally fine with it," he said when we asked if he get bugged with the Frodo fixation. Elijah's been in well-received films like
Eternal Sunshine of the Spotless Mind
and
Everything is Illuminated
so we wanted to know if he feels like he carries the baggage of the Lord of the Rings franchise. (Also Read:
Frodo Baggins Not Something Elijah Wood 'Thinks About'
)
"No, it's fine. I understand that. But for me that was eight years ago. I have already done that and gone beyond," Elijah told us.
In Delhi to perform at Lap as on half of the musical team Wooden Wisdom, the actor-DJ was rather pleased that Lady Gaga had performed on the same stage before him.
Admitting that DJing is a passion, Elijah said, "I like making people dance."
Bollywood music is a favourite, especially Bappi Lahiri hit
I Am A Disco Dancer
. Elijah admitted that it's the videos that get him. They are very entertaining, he said and he loves the choreography. And films - what about Bollywood movies? "I have watched a few films but don't remember the names," said Elijah. (Also Read:
Elijah Wood's Favourite Indian Things: Chai. And Bappi Lahiri
)
We can fill in one blank there. The most recent Indian film he watched involved a robot dancing with many other robots - it appears to have been was Rajinikanth's turn as Chitti in
Robot/Enthiran
which impressed him.
Elijah's already braved the deadly traffic in an autorickshaw on the streets of Mumbai, no less. What would Gandalf the wizard have done in his place in an Indian traffic jam? He would have parted it, laughed Elijah. Or press-ganged Gwaihir's band of giant eagles from
The Lord Of The Rings
. Delhi's
autowalahs
are no less than Gandalf, he said also, in a rather extravagant compliment. (Also Read:
When Amitabh Bachchan 'Dropped' His Guard For Elijah Wood
)
He can speak no Elvish and would rather not try, but getting old Bollywood records is on his to-do list. Now, that's a quest to rival his trek to Mount Doom with the One Ring as Frodo.
So if you see a Hobbit in Old Delhi then you know who it is and what he's doing there. Help him along on his quest.