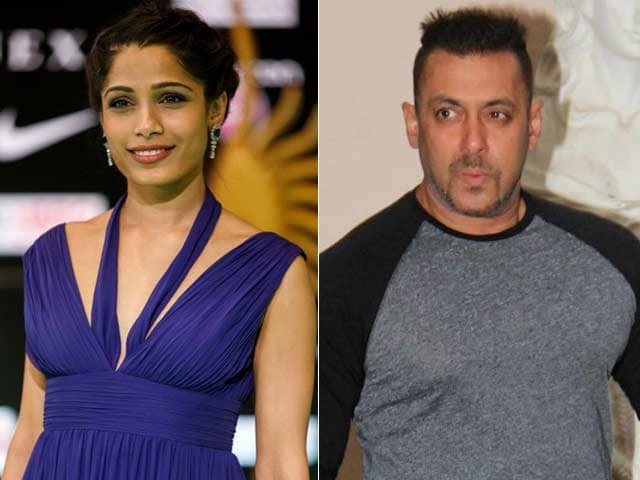 Highlights
Freida was speaking on the sidelines of the IIFA Awards in Madrid
The context in which anyone says something is very important: Freida
Freida is known for her roles in films like Slumdog Millionaire
New Delhi:
Actor Salman Khan has not apologised so far for having likened himself to a 'raped woman' while filming
Sultan
and actress Freida Pinto told
DNA
that she "took offence" at the 50-year-old actor's comment.
Ms Pinto, 31, is currently in Madrid for the International Indian Film Academy (IIFA) gala. The actress said that one should be responsible for their comments.
"I actually took offence to Salman's comments as well. I feel that there is some sense of responsibility that needs to come with it. And it's important at that point of time for whoever that person is to feel responsible enough to either clarify and apologise or stand the ground if they did something right," Ms Pinto told
DNA
on the sidelines of IIFA.
Ms Pinto, however, said that the context in which one says something is also very important.
"It goes two ways actually. The context in which anyone says something is very, very important. Sometimes, I feel and this is not just about this particular comment, but some people might say something which is not wrong. But we need to understand that we do come from a bit of a sensitive culture where it does irk us and it gets blown out of proportion. But it's not the same with Salman's comment," Ms Pinto told
DNA
.
At a press conference while speaking about the wrestling scenes of
Sultan
, Salman Khan had said: "When I used to walk out of the ring, after the shoot, I used to feel like a raped woman. I couldn't walk straight," he said, to instant outrage."
Almost as soon as he'd said it, the actor tried to retract somewhat inarticulately: "I don't think I should have..."
Ms Pinto criticised the media for not reporting on the fact that Mr Khan had "immediately retracted his comments."
"Most people realise that and do regret it later. But it's unfortunate that nobody reported that he immediately retracted his comments too. That is the job of the media to make sure that if someone says something wrong and if they say they are wrong and regret it, the media should highlight that as well," Ms Pinto told
DNA
.
The actress also added that one tends to make 'mistakes at times' and comments might be 'misinterpreted' too. However, Ms Pinto admitted that she would 'never say something' like what Mr Khan did.
"Mistakes do happen because we are humans. I am also not going to say the right things at the right time always. Sometimes, after a long tiring day, I might say something which I would not have said otherwise. I wouldn't say something like this (Salman Khan) ever though. I might say something which may get misinterpreted," Ms Pinto told
DNA
.
Ms Pinto concluded by saying that although Mr Khan's comment is 'shocking,' one should now concentrate on other issues in the society.
"If you read the comment as a woman, it chunks out as a shocking statement. But of course, if someone did apologise, highlight that as well. People can do all kinds of permutations and combinations here. Everybody wants to analyse, everyone wants to digress. So instead of just focusing on what one person said, we should focus at the issues at hand. Is rape not happening in our country? Let's focus on the fact that why has the mentality where women aren't valued has not changed? Let that be a conversation starter for something much bigger that's happening in India today," Ms Pinto told
DNA
.
Freida Pinto is the star of films like
Slumdog Millionaire
,
You Will Meet a Tall Dark Stranger
,
Miral
,
Rise of the Planet of the Apes
and
Desert Dancer
.
In Madrid, Salman Khan said on Thursday that he needs to talk less to stay out of trouble.
"I know it has been a long evening, I will make it short, quick," he said, prompting a woman in the audience to yell out: "No! Long." But it appears that less, now, is more.
"I have to. Knowing me the shorter I keep it the better it is," said Mr Khan.
Mr Khan's rape analogy
has been criticised by actress Kangana Ranaut, filmmaker Anurag Kashyap and singer Sona Mohapatra.
Mr Khan's
Bajrangi Bhaijaan
co-star Nawazuddin Siddiqui, excused the actor by saying that he had "used the comment metaphorically." His
Yuvraaj
director Subhash Ghai told the press that nobody respected women more than the actor.
Bigg Boss
alumnus Pooja Bedi demanded to be told what is so outrageous in Mr Khan's comment and tweeted that everyone should stop overreacting.
Mr Khan's brother Arbaaz excused the comment in this manner: "There are some things which we say while talking but we should look at the intention - why was it said? I definitely have no doubt that whatever Salman said, the intention was not wrong. It was just the kind of (statement) where we compare things - 'I worked like a donkey' so now people will say you used the word donkey so some animal activist will come after you."
The actor's father, writer Salim Khan, issued an apology on Twitter and appealed for forgiveness on his son's behalf.
Salman Khan has been summoned by the National Commission of Women for his rape comment.