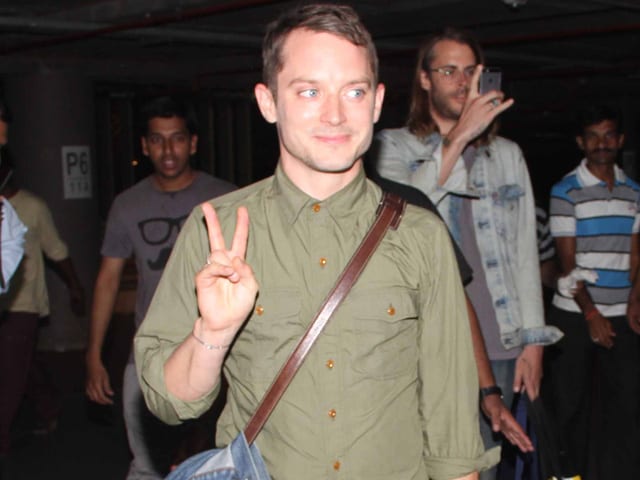 Mumbai:
Hollywood star Elijah Wood, best known as Frodo Baggins of
The Lord of the Rings
, is in India for his music tour. And on his very first day in the country, he enjoyed an auto-rickshaw ride which he compared to a ride on "Disney roller-coaster". (In Pics:
This Hobbit is a Long Way From the Shire
)
The international star, who landed at the Mumbai international airport on the night of September 2, is on his debut visit to India and will be on a three-city India tour with Zach Cowie, with whom he makes the Wooden Wisdom DJ duo.
An auto-rickshaw ride, which he took on September 3, was not the only thing the actor included in his to-do list. Elijah also wants to relish the flavours of authentic Bengali cuisine.
A source in the know of Elijah's plans told IANS: "He loved the auto-rickshaw ride and said that 'it is like a Disney roller-coaster ride' for him. He will be having authentic Bengali lunch, following which he will rest for a while and address a press conference".
Elijah also has plans to soak in the nightlife of Mumbai by performing on September 3 at the Trilogy Nightclub, where he will be mixing some Bollywood numbers on his set.
If time permits, he's also keen to explore the city.
"He is happy to be visiting Mumbai during peak of monsoon when the weather is fine and is glad that he is getting a glimpse of the city with no rain. He plans to roam in and around Bandra if he has some spare time in his hand," the source said. (Also Read:
A Hobbit Will Perform in India Soon. Thank You Ali Fazal
)
Hosted by Indian actor Ali Fazal, Wooden Wisdom will be visiting Delhi and Hyderabad as well. The 34-year-old actor reportedly also wants to visit Agra to see the iconic Taj Mahal.