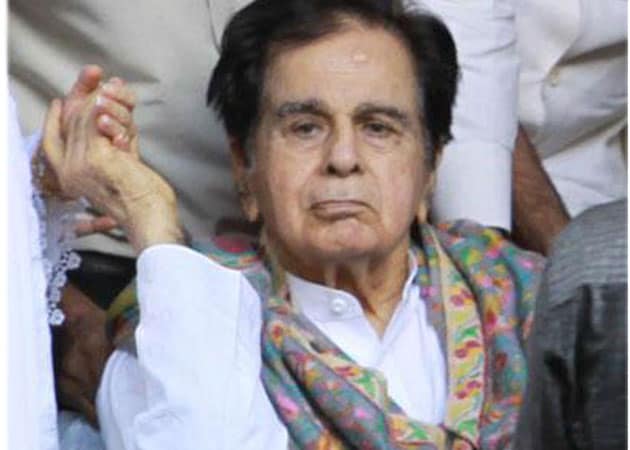 Highlights
Dilip Kumar, the last surviving actor from Bollywood's Golden Age, is recovering in hospital but needs rest, his wife Saira Banu said today (September 19, 2013).
"He has to overcome the problem and it will take some time. But he is recovering. This morning he got up and had tea. He needs to rest. I thank all the fans and well wishers for their prayers and request them to continue with it," Saira Banu said. A photo of Dilip saab in his hospital bed was released by his family.
"He will come home soon," Saira Banu added.
The 90-year-old actor was admitted to Lilavati hospital in suburban Bandra on Sunday after a heart attack. He is in still in the ICU.
Dilip saab was born Muhammad Yusuf Khan on December 11, 1922, in Peshawar (now in Pakistan) and his acting career spanned six decades and over 60 films.
His best-known films include Mughal-e-Azam, Devdas, Naya Daur, Ram Aur Shyam, Madhumati and Ganga Jamuna.
With PTI inputs
Mumbai:
Dilip Kumar, the last surviving actor from Bollywood's Golden Age, is recovering in hospital but needs rest, his wife Saira Banu said today (September 19, 2013).
"He has to overcome the problem and it will take some time. But he is recovering. This morning he got up and had tea. He needs to rest. I thank all the fans and well wishers for their prayers and request them to continue with it," Saira Banu said. A photo of Dilip
saab
in his hospital bed was released by his family.
"He will come home soon," Saira Banu added.
The 90-year-old actor was admitted to Lilavati hospital in suburban Bandra on Sunday after a heart attack. He is in still in the ICU.
Dilip
saab
was born Muhammad Yusuf Khan on December 11, 1922, in Peshawar (now in Pakistan) and his acting career spanned six decades and over 60 films.
His best-known films include
Mughal-e-Azam, Devdas, Naya Daur, Ram Aur Shyam, Madhumati
and
Ganga Jamuna
.
With PTI inputs