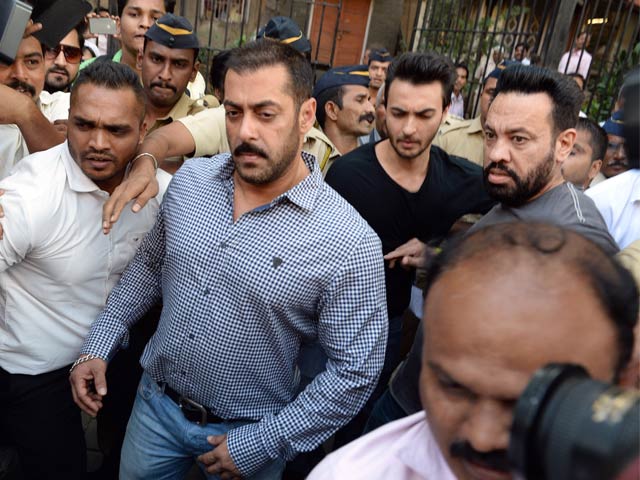 New Delhi:
Actor Salman Khan was acquitted of all charges in the 2002 hit-and-run case by the Bombay High Court on Thursday and Twitter, which never passes up the chance to make a joke, is still keeping them coming a day later. The hashtag #SalmanVerdict was the top trend all of Thursday and was still trending on Friday morning.
Internet giant Google has been unwittingly drawn into the discussion online because of its self-driving car project which it says will be road tested and available to the public by 2020. Salman Khan, who is accused of drunkenly driving over pavement dwellers in September 2002 and killing one, was found not guilty by the High Court. Google can just retire its ambitious project, joked Twitter, because the 49-year-old actor invented the driverless car 13 years ago:
Bhai had a driverless car in 2002..in your face google!!! #SalmanVerdict#SalmanWalksFree

— MuzzlewidMuffler (@anarkanu) December 11, 2015
So, neither @BeingSalmanKhan nor his driver was driving the car.I didn't know autopilot car exists in India #SalmanVerdict .

— SAURABH PANDAY (@subhsaurabh) December 11, 2015
So, India's driverless car was actually invented back in 2002!? Take that Google and Tesla! #SalmanVerdict#nonsense

— Amitav Haldipur (@Avader12) December 11, 2015
Nobody realized India launched its first Driverless car back in 2002. #SalmanVerdict

— Subodh Srivastava (@subodh_srivstv) December 11, 2015
India saw its first driverless car much before Google ever thought about it . . . . #SalmanVerdict

— Vivek Paranjpe (@vivekparanjpe) December 10, 2015
After the court delivered its decision, Twitter decided that it was the car Salman said he hadn't been driving that was drunk:
Car was definitely drunk. Much like the chinkara committed suicide. #SalmanVerdict

— Aks Pai (@akshathakpai) December 11, 2015
Finally we know ! The car was drunk . #SalmanVerdict

— A Muskeeter (@AMuskeeter) December 10, 2015
It's not just Google that Salman has preceded by 13 years:
2002 was actually the first season of How To Get Away With Murder.

— M (@LeftArmOver_) December 10, 2015
Salman Khan, who will be 50 at the end of this month, was convicted of culpable homicide not amounting to murder and sentenced to five years in jail by a Sessions Court in May. The High Court later granted him bail pending an appeal and has now ruled that he cannot be convicted based on the evidence produced by the prosecution. (Also Read:
Salman Khan's Celeb Visitors Include Waheeda Rehman, Ex-Girlfriend Sangeeta Bijlani
)
The actor has otherwise had a blockbuster year delivering two films -
Bajrangi Bhaijaan
and
Prem Ratan Dhan Payo
- which, between them, made over Rs 500 crores at the Indian box office. Salman Khan is now filming his next movie
Sultan
.