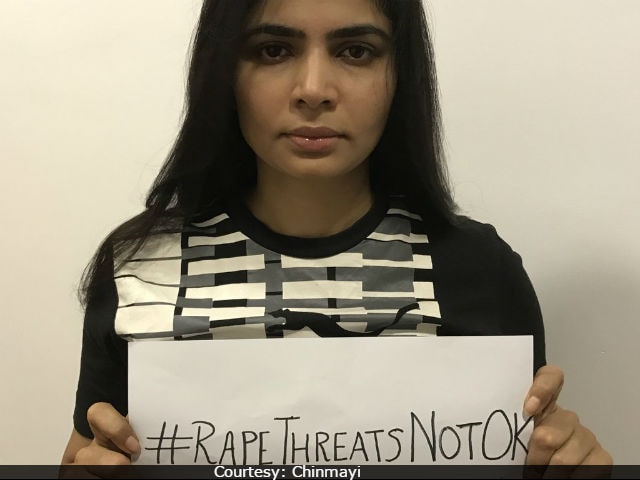 Highlights
Chinmayi received tweets like, "I'll throw acid on your face"
Asked if Twitter had responded, she said, "Not yet. Not that I know of"
She is best-known for her playback work in Kannathil Muthamittal
Chennai:
Singer Chinmayi Sripaada's petition against Twitter accounts sending rape threats
has collected well over its target of signatures. The 32-year-old singer told NDTV that she's had no response from the micro-blogging site yet. "I tweeted the petition on Monday morning and it has crossed 50,400 and something as of now. The target was 50,000. The signatures have crossed 50,000 which is a good thing," Chinmayi told NDTV. The petition, addressed to Twitter boss Jack Dorsey, wants accounts tweeting rape threats and other abuses to be shut down. The singer's tweet has been reshared several times and the link to the petition on change.org has also been posted and reposted online. Asked if Twitter had responded, Chinmayi said, "Not yet. Not that I know of."
This is a petition I have been working on for a while to make Twitter safer for women. The timing cant be more right.

— Chinmayi Sripaada (@Chinmayi) March 7, 2017
"Very recently Gurmehar Kaur's tweets attracted a lot of rape threats," Chinmayi Sripaada said about the Delhi University student who was abused for a Facebook post against the BJP-linked student outfit ABVP which is accused of provoking campus violence. "When the society is going slightly off kilter on a platform, then we need to correct the platform perhaps, Chinmayi told NDTV. And those threatening rape or acid attacks - "Such expressions need not have any freedom, very honestly," Chinmayi Sripaada told NDTV.
Watch: What Chinyami Sripaada has to say about the online petition
In the petition, Chinmayi Sripaada writes that she was galvanised into action after receiving tweets that said 'you need to be raped' and 'I'll throw acid in your face.' She told NDTV, "Five years ago I was one of the first people in India to file a complaint based on online harassments and it was the first arrest made."
Twitter has been widely criticised for its perceived reluctance to penalise trolls and has been accused of confusing hate speech with free speech. "Even during that time, Twitter refused to divulge the details of those who threatened to rape, harass and things like that," Chinmayi told NDTV. "The legal department was literally, they had absolutely no where to go and Twitter was refusing to divulge details and it was only because of fans that I was able to identify and find the addresses of the couple of people and after which the police arrested them," she said. Three people were arrested and spent 10 days in jail.
The process was hard. "It is very very difficult to find strength when you are going through suffering, if you are going through trauma," she said.
Chinmayi Sripaada, who lives and works in Chennai, is known for her playback and voice work. She is best-known for her playback work in films like
Kannathil Muthamittal
.