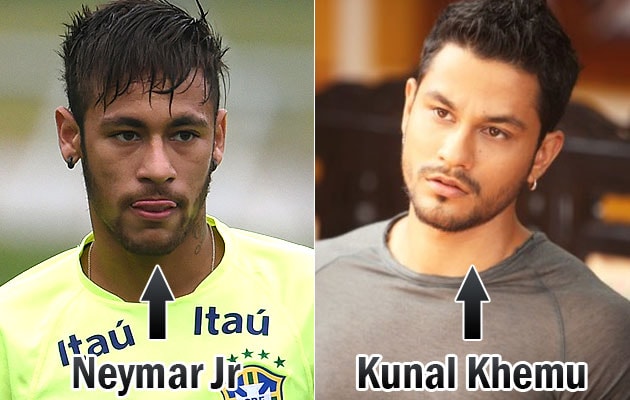 Highlights
One is a superhit soccer star, the other a flop actor. Go Goa Gone's Kunal Khemu has probably never been so much on the minds of people as he is now – every time Brazil's Neymar Jr appears on pitch.
31-year-old Kunal is a dead ringer for 22-year-old Neymar, who helped Brazil score a 3-1 win over Croatia in the opening match of the FIFA World Cup last night.
As a child actor, Kunal appeared in hit films like Hum Hai Rahi Pyar Ke and Raja Hindustani. His recent grown-up roles have been less successful, though he did feature in money-spinner Golmaal 3. Neymar Jr is currently the seventh highest goal scorer for Brazil (with Ronaldinho and Jairzinho), behind football greats Pele, Zico, Ronaldo, Romario, Bebeto and Rivaldo.
Twitter agrees that Kunal and Neymar look like each other:
Did Kunal Khemu score two goals for brazil in #BrazilvsCroatia #Neymar
— Vikas Wadhawan (@Indian4everr) June 13, 2014
Kickass business idea: Give Kunal Khemu an undercut, dress him in the Brazil kit & make him your brand ambassador. Instant Neymar jugaad!
— Lester Fernandes (@leztah) June 13, 2014
@sidin Neymar and Kunal Khemu got separated in Kumbh Ka Mela years back.
— Chacha Chaudhary (@ChachaChawdhary) June 12, 2014
Neymar. Kunal Khemu. #sameguy
— Manish Batavia (@manishbatavia) June 12, 2014
Twitter also identified another doppelganger situation from pitch to screen:
Anyone else think Croatia's coach kinda looks like Joseph Gordon-Levitt??? pic.twitter.com/sFAlUq39O9
— Jack Cronin (@MrJackCronin) June 12, 2014
New Delhi:
One is a superhit soccer star, the other a flop actor.
Go Goa Gone
's Kunal Khemu has probably never been so much on the minds of people as he is now - every time Brazil's Neymar Jr appears on pitch. (Also Read: (
World Cup 2014 Kicks Off in Style With Jennifer Lopez, Pitbull
)
31-year-old Kunal is a dead ringer for 22-year-old Neymar, who helped Brazil score a 3-1 win over Croatia in the opening match of the FIFA World Cup last night.
As a child actor, Kunal appeared in hit films like
Hum Hai Rahi Pyar Ke
and
Raja Hindustani
. His recent grown-up roles have been less successful, though he did feature in money-spinner
Golmaal 3
. Neymar Jr is currently the seventh highest goal scorer for Brazil (with Ronaldinho and Jairzinho), behind football greats Pele, Zico, Ronaldo, Romario, Bebeto and Rivaldo.
Twitter agrees that Kunal and Neymar look like each other:
Did Kunal Khemu score two goals for brazil in #BrazilvsCroatia#Neymar

-- Vikas Wadhawan (@Indian4everr) June 13, 2014
Kickass business idea: Give Kunal Khemu an undercut, dress him in the Brazil kit & make him your brand ambassador. Instant Neymar jugaad!

-- Lester Fernandes (@leztah) June 13, 2014
is it just me or does neymar look a lot like kunal khemu? #WorldCup2014

-- vera ciously (@veraciously) June 12, 2014
Neymar. Kunal Khemu. #sameguy

-- Manish Batavia (@manishbatavia) June 12, 2014
Twitter also identified another doppelganger situation from pitch to screen:
Anyone else think Croatia's coach kinda looks like Joseph Gordon-Levitt??? pic.twitter.com/sFAlUq39O9

-- Jack Cronin (@MrJackCronin) June 12, 2014