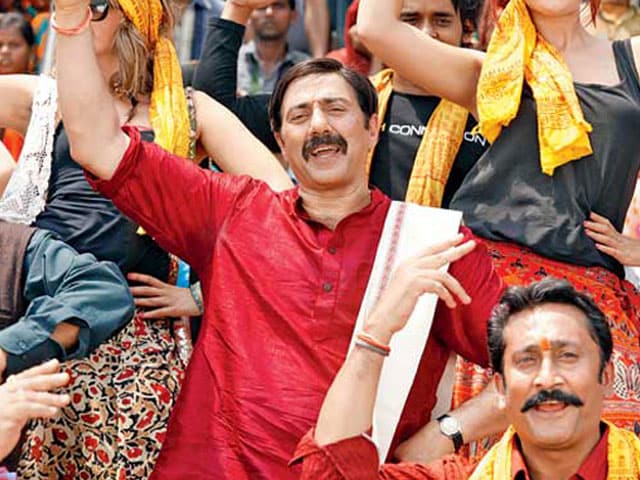 Mumbai:
They say, any publicity is good publicity. When footage of an unreleased film or snapshots of an actor's look from a fiercely guarded project are leaked online - incidents that are not at all uncommon these days - it causes a social media storm. It also becomes a talking point resulting in publicity for the film.
Is it safe to hazard a guess that it might be the doing of the makers themselves? Or should we give them the benefit of doubt? Could someone allow an intrusion of their privacy to grab eyeballs? Or is there someone out there who's deliberately trying to harm the interests of the filmmaker? The culprit is almost never tracked down, so assumptions are rampant. The most common of them is that these leaks are marketing strategies adopted by the filmmakers themselves to create a buzz around their films before the release.
Sunny days
For the last couple of days, the leaked footage of Sunny Deol's long-forgotten film
Mohalla Assi
has been doing the internet rounds and is suddenly being talked about. It became a rage on social media last week as most members of its star cast are seen mouthing expletives in it apart from some sexually explicit scenes. Incidentally, the film is slated to release next month.
Legal wrangles
Sunny and the film's director Chandraprakash Dwivedi have also landed in legal trouble. A complaint has been registered against them by the Varanasi-based organisation
Sarvajan Jagruti Sanstha
. Its members feel that the film hurts the religious sentiments and portrays Varanasi, where the film is set, in negative light. Strangely, Sunny, who has been indulging in media interactions since the past few days, prefers to keep mum. Ditto is for the film's director and producers. So who dunnit?
Stolen?
At a recent event, Sunny Deol's co-star Ravi Kissen has reportedly stated, "The trailer on the internet is an uncensored video. It was stolen from the editing room. We had tried our best to keep it under wraps, but I don't know what kind of thinking this offender has who is out to destroy cinema."
Apart from
Mohalla Assi
's footage, nude images and videos of TV actress Preeti Gupta, who featured in
Kahaani Ghar Ghar Ki
, were also leaked online last week. The videos and images feature her nude scenes and gay kissing scenes from her film
Un-freedom
, which has been banned by the Censor Board in India for its sexual content.
Un-freedom
's cast includes Victor Banerjee and Adil Hussain. An unknown film comes to the forefront, thanks to the leaked footage!
Not me
In February,
Badlapur
actress Radhika Apte's nude snapshots did the rounds. The actress denied that it was her. At that time the actress had told hitlist, "Anyone with a sane mind will know that it's not me. They are not my photographs. There is nothing more that I have to say." The actress had even tweeted, "You guys! If you're going to get someone to pass off as naked me, she needs to look a lot more like me."
In April, Radhika again found herself in the midst of a leaked footage controversy when an explicit scene from her short film made for the international circuit by Anurag Kashyap made its way online. Though Radhika prefers to not speak about it, Kashyap vented his fire and filed an FIR with the cyber cops. He has also reportedly stated that he would spend the rest of his life finding the culprit.
Climax revealed
There have been other recent cases of leaked footage too. Just on the eve of Dibakar Banerjee's film
Detective Byomkesh Bakshy
's release, a video revealing the secret about the identity of the villain was out. The producers of the film, Yash Raj, were forced to advance the film's press show to this evening instead of their regular Friday morning screenings. Dibakar had told hitlist, "It does not matter what the video shows and it will not affect my film as it is bigger than the climax."
Other instances
Aishwarya Rai's look from the sets of
Jazbaa
did the social media rounds despite the efforts of director Sanjay Gupta to keep it under wraps. The poster of the Varun Dhawan-Shraddha Kapoor starrer's recent release
ABCD 2
were released online before its official release. The two stars had ranted on Twitter about the league and how someone had played mischief with their hard work.