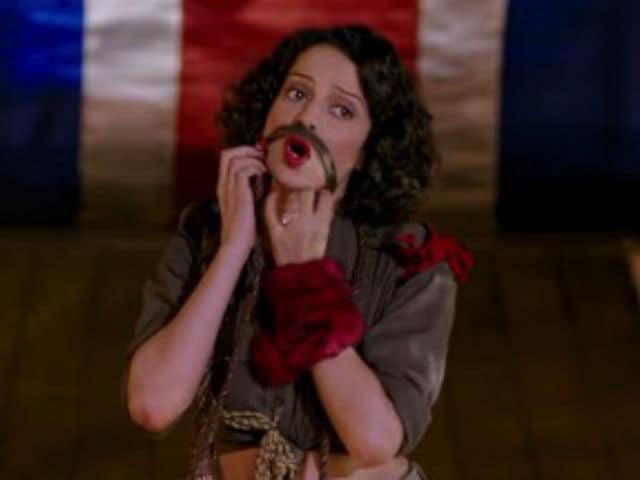 Highlights
Kangana's Miss Julia sings about her 'ishq angrezi mein' in the song
Rangoon is scheduled to release on February 24
Rangoon also stars Shahid Kapoor and Saif Ali Khan
New Delhi:
Actress Kangana Ranaut, cast as a bombshell in
Vishal Bhardwaj's war drama Rangoon
, is the star of song titled
Bloody Hell
, released today. '
Bloody hell
' is exactly what the military troops she's sent to entertain look like they are thinking as they watch Kangana gyrate with a whip. Rangoon is set during World War II and Kangana, 30, plays
Jaanbaaz
Miss Julia, a '40s filmstar in the vein of Fearless Nadia.
Bloody Hell, in which Kangana's Miss Julia
sings about her '
ishq angrezi mein
,' also features the two men vying for her affections. Saif Ali Khan, who plays a film producer and Miss Julia's paramour, is seated with the soldiers, watching his protege perform with professional pride. The scenes of Kangana dancing are intercut with footage of her lying muddied in a trench with the other man in her life, a soldier named Nawab Malik, played by actor Shahid Kapoor.
The credits of
Bloody Hell
are impressive - Sunidhi Chauhan sings to the tune of Vishal Bhardwaj and the lyrics are courtesy Gulzar.
Video: Watch Kangana Ranaut in Bloody Hell from Rangoon
Kangana Ranaut claims the dance floor isn't her area of expertise (we'll agree to disagree). "I'm better known for my so-bad-it's-good dance. But in this film, I did three major dance sequences in the first schedule," she said in a statement, reports news agency PTI.
She worked hard on
Bloody Hell
. "Dance in the '40s was about high energy and for me, it was all too new. I rehearsed a lot and I don't think I was amazing. But I wasn't terrible either. Julia is a first-rate performer and to justify her popularity, I needed to be damn good. However, I was determined. Even if it meant breaking bones, I had to do it for this part," Kangana said, reports PTI.
Filming
Rangoon
in the treacherous terrain of Arunachal Pradesh was also hard. Director Vishal Bhardwaj, who is currently post-producing the film, says the plot is less a war film and more a love triangle. This is the first time Kangana Ranaut and Mr Bhardwaj are collaborating. He previously directed Saif Ali Khan in
Omkara
and
Shahid Kapoor in Kaminey and Haider
.
Rangoon
is scheduled to release on February 24.
(With inputs from PTI)