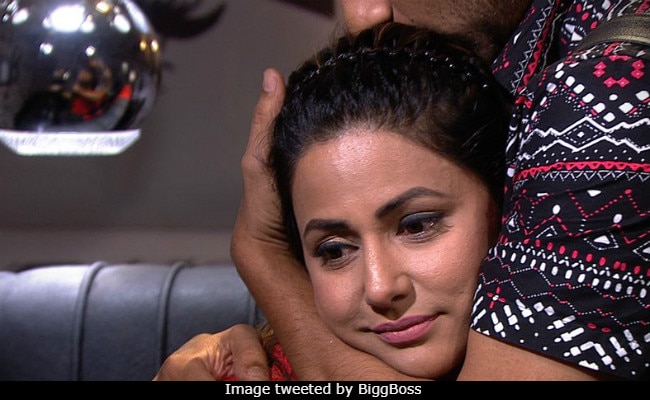 Highlights
Hina Khan nominates herself to save Puneesh
Sabyasachi, Shilpa, Hiten, Sapna are also nominated
Bigg Boss nominates Benafshah, Bandgi and Priyank
New Delhi:
Bigg Boss 11
began on a competitive note as Monday's captaincy task spilled over to the new episode. Sapna Choaudhary became the new nominated contestant for the captaincy task and also was the first one to be disqualified. Meanwhile, Bandgi Kalra and Luv Tyagi put up a great fight and held on to the ring all night long. However, there was constant provocation in the form of Hina Khan, which Bandgi later discussed with Puneesh Sharma. The task eventually came to an end with Luv Tyagi becoming the next captain of the house. Sometime later in the show, Aakash did not appear too happy with the new captaincy as he also considered himself a worthy contender for the post but was not nominated.
Bandgi Kalra gives her best, but gets disconnected. Luv Tyagi becomes the next captain of #BB11. pic.twitter.com/5hPfQHMqDD

— COLORS (@ColorsTV) October 30, 2017
Then began the nominations for this week. Mehjabi Siddiqui and Sabyasachi Satpathy were the first pair of contestants to be called in for the nomination procedure. This is how the nominations rolled out on Tuesday's episode: the pairs of contestants were to enter the confession room and nominate one - the two housemates were to nominate one with mutual consent. These were the other pairs who entered the confession room together - Shilpa Shinde and Aakash; Priyank Sharma and Hiten Tejwani; Vikas Gupta and Sapna Chaudhary; Hina Khan and Puneesh Sharma, Aarshi Khan and Dhinchak Pooja; Benafshah Soonawallah and Bandgi Kalra.
Housemates will be called in pairs and they've got to decide which one of them will be nominated and which one will be safe! #BB11pic.twitter.com/cLtgO5tA4A

— COLORS (@ColorsTV) October 30, 2017
Shilpa Shinde tells Akash Dadlani that he's more scared of the nominations! Do you agree? #BB11pic.twitter.com/c01j7D55SD

— COLORS (@ColorsTV) October 30, 2017
By the end of the day, Sabyasachi, Shilpa, Hiten, Sapna, Hina, Pooja, Benafshah, Bandgi and Priyank were the nominated names. While Sabyasachi, Shilpa, Hiten and Pooja decided to nominate themselves to save their counter parts, Puneesh had to bargain his way to the safe spot. He promised to never tease or pick up a fight with Hina and apologised for his behaviour in the past. Puneesh literally begged for mercy, after which Hina decided to nominate herself for the week. Both Benafshah and Bandgi were nominated because they failed to take a mutual decision while Bigg Boss nominated Priyank for breaking house rules yet again.
Other highlights of the show were Priyank Sharma's heated argument with Vikas Gupta and how Dhinchak Pooja lost her cool and also made up with Aakash in a jiffy.
Also, expect a battle between Shilpa Shinde and Vikas Gupta on Wednesday's episode.