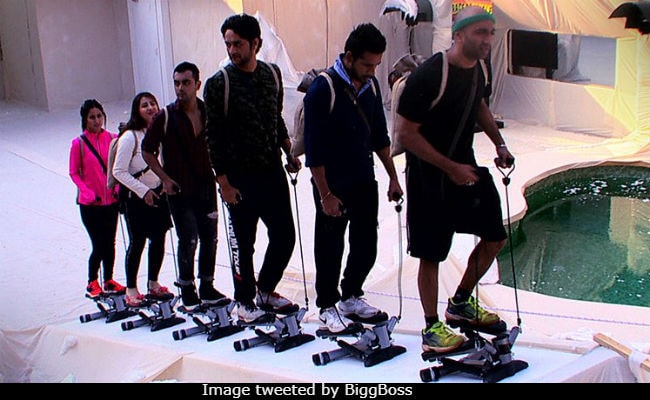 Highlights
Bigg Boss has a new task for the Ticket To Finale
Hina and Shilpa will try to disqualify Aakash
Hina will also strike a deal with Vikas
New Delhi:
The
Bigg Boss 11
episode of January 2 is going to be super interesting with a task that will entitle one of the contestants for direct entry to the finale. Bigg Boss sends a task to the housemates and Vikas reads it out in the common area. The garden area has been converted into a mountain with false steps on a slanted slope. The housemates are to climb the mountain-like structure with a bag bearing the names of other contestants. The fate of the contestants will be in the hands of those who are carrying bags with their names on it.
The housemates have started strategizing against each other to win the Ticket To Finale. Catch all the drama tonight at 10:30 PM only on #BB11. #BBSneakPeekpic.twitter.com/W7CkDoXOue

— Bigg Boss (@BiggBoss) January 2, 2018
If they want, the housemates can also empty the contents of the bag and at the end of each round, the bag with the least weight will be disqualified from the task. Hina Khan and Shilpa Shinde plan their strategy to make Aakash quit the game first while Luv Tyagi tries to annoy Vikas Gupta during the task. Puneesh Sharma promises to help Aakash but also strikes a deal with Luv. Hina and Vikas also promise each other to keep their bags intact.
Even after all the strategizing, the task begins to see all the housemates emptying their respective bags in order to score the ticket to finale themselves.
Earlier in the day, Aakash will also have a fight with Hina about not doing household chores. Aakash says he doesn't feel like cleaning the house at the moment and offers to do the dishes at night. This irks Hina who snaps at Aakash, when he retorts in his usual indecent manner. Shilpa Shinde brings in Aakash's mother into the fight and says Aakash would better calm down.
Saal ke pehle din hi #BB11 ghar mein hua tagda jhagda. Find out more tonight at 10:30 PM. #BBSneakPeekpic.twitter.com/NpSMggEFlA

— COLORS (@ColorsTV) January 2, 2018
Who do you think will get the ticket to finale? Watch this space for more updates on
Bigg Boss 11
.