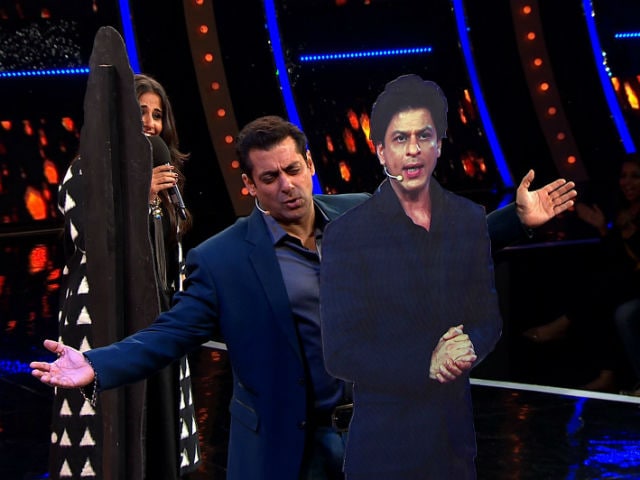 Highlights
Salman Khan and Vidya Balan's recreation was hilarious
Katrina Kaif, Aamir Khan also made specail appearance in cut-out versions
Vidya promoted Kahaani 2 which will hit the screens on December 2
New Delhi:
Actor Shah Rukh Khan hasn't shown up on this season of
Salman Khan's Bigg Boss 10
yet and so Salman made amends on the latest
Weekend Ka Vaar
episode with Vidya Balan. The weekend before last, S
RK's Dear Zindagi co-star Alia Bhatt appeared
on
Bigg Boss
on her own and was asked by Salman why SRK hadn't accompanied her. SRK didn't accompany Vidya (
who was promoting her new film Kahaani 2
) either, at least not in person, but he was there in spirit and in paper. We'll explain. Salman Khan, who hosts the weekend episodes of
Bigg Boss
, and Vidya Balan recreated a scene from
Dilwale Dulhania Le Jayenge
, with Salman copying SRK's signature hug-the-world pose. Making a cameo appearance was a life-size cut-out of Shah Rukh Khan.
Vidya, hiding in the back with the microphone, mouthed the famous
Palat
dialogue from DDLJ but Salman's SRK didn't move. Why, you ask? Well, because he was answering nature's call. With his arms outstretched, asked an amused Vidya. "
Bade bade deshon mein aisi choti choti baatein hot rehti hain
," said Salman-SRK.
.@vidyabalan and @beingsalmankhan have come up with a 2016 version of #DDLJ!
How much do you like this one? #BB10WeekendKaVaarpic.twitter.com/LpCzqPyA0j

— Bigg Boss (@BiggBoss) November 27, 2016
Also making special appearances were Katrina Kaif and Aamir Khan, all in cut-out versions.
.@BeingSalmanKhan and @vidya_balan play another fun game with cutouts of Bollywood stars! #BB10WeekendKaVaarpic.twitter.com/Eqdp5x5iXz

— Bigg Boss (@BiggBoss) November 27, 2016
Vidya also tried to mimic Katrina's accent, which didn't impress Salman much. Vidya then remarked that Salman would know Katrina's accent better (may be because Salman and Katrina were rumoured to be in relationship?).
Salman and Vidya played another interesting game. Each of them would recount an incident and the other had to figure out if it was true or not. Salman told a story about him and actor Sanjay Dutt in which they were spotted at an airport with bags of money and the security thought that they were drug dealers. Vidya guessed that it was a true incident. With Salman and Sanjay, in the picture such juicy bits are possible (said Salman Khan. Not us).
Vidya, on the other hand, said that past life regression shows that she was actress Meena Kumari in her last birth. Salman said the theory rings true. Vidya took it as a compliment.
On another occasion, Salman mentioned that he tried to recreate Katrina Kaif's picture on canvas, which eventually looked like Vidya Balan. Now, we fail to understand how's that possible and even Vidya was perplexed. But Salman said it was a true story and Vidya agreed.
Would you believe it if we told you Vidya pretended to be an ad agency agent just so that models could take off their shirts in front of her? Salman did believe it and said it must have been a true story. Salman added that there was an occasion when she forced him to take off his t-shirt. When was this, Vidya?
The kahaani of Salman Khan and Vidya Balan was hilarious. We would love to see these two collaborate soon. Vidya Balan's
Kahaani 2
is set to hit the screens on December 2.