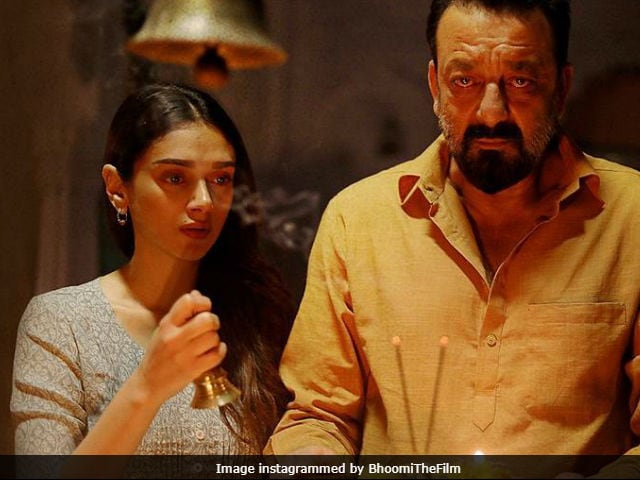 Cast: Sanjay Dutt, Aditi Rao Hydari, Sharad Kelkar
Director: Omung Kumar
Rating: One star

Oh no, not another one! Haven't we had more than our fill of rape-and-revenge dramas this year? Following in the footsteps of Raveena Tandon's Maatr and Sridevi's MOM, Sanjay Dutt, in Bhoomi, replaces the angry mother figure with a provoked patriarch pushed to the wall by a crime against his daughter.

If not wholly egregious, Bhoomi is a bad enough film to merit summary banishment. Sickeningly prurient, it goes off the rails at the very outset never to regain any semblance of sanity. It is loud, violent, exploitative and completely hollow in its posturing against rapists. It is the sexually assaulted girl who is reduced to harping on her helplessness, facing humiliating questions in a courtroom and encountering situations - including a bunch cops sniggering at her plight - that paint her into a corner.




Main duniya ko nahin badal sakti, kanoon ko nahin sudhaar sakti, par sar uthakar jee sakti hoon
(I cannot change the world or improve the law, but I can live with my head held high), she says to her distraught father. But her declaration turns out to be a whole lot of hot air, given the heightened state of emotional and mental disarray she slips into when the justice system fails here.
Subtlety isn't director Omung Kumar's forte. In
Mary Kom
and
Sarbjit
, which were no less melodramatic and strident, he at least had substantive stories to work with. In
Bhoomi
, he is stuck in a sludgy, slippery puddle that only gets deeper and messier as he bears down on it without let. He serves up everything in abundance, be it crude humour, emotional distress or bloody backlashes.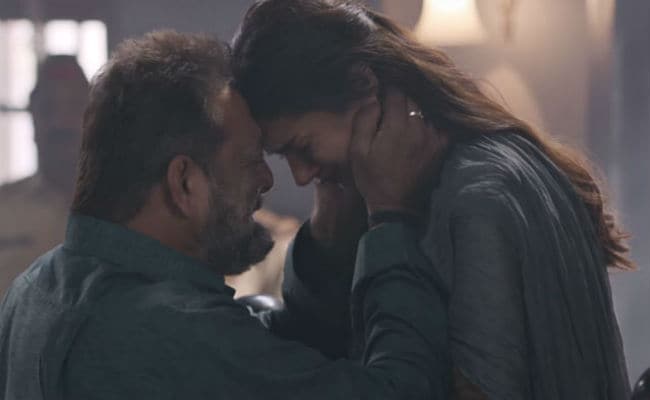 With the exception of her doting father and his inseparable drinking mate (Shekhar Suman), all the men around the heroine are either louts or wimps who give her no quarters as she pursues her dream of making it big as an independent wedding planner in a small town. The man she is engaged to, a doctor who loves her, turns out to be spineless mamma's boy.

Bhoomi tells the dreadfully trite tale of an Agra shoemaker who goes on a killing spree when his idyllic existence is shattered. He has good reason: his daughter is gang-raped on the way back from work a day before her wedding. But that doesn't quite explain why the film has to go so completely haywire. Riddled with predictable tropes and overrun by sexist cliches, Bhoomi proffers little that makes sense.

The father, a docile gentleman up until the film's halfway mark, files a police complaint and seeks legal help but fails to secure justice for the girl. So, with no option left, he mutates into an unstoppable demolition man and, with the rape survivor by his side and egging him on, takes the law into his own hands and goes hammer and tongs at the culprits.

Bhoomi takes its title from the name of the principal female character who seems like a pretty strong-willed woman to begin with. But once Vishal (Puru Chibber), the man whose advances she spurns, decides to gang up with a vicious cousin, Dhauli (Sharad Kelkar), and teach her a lesson, she loses her composure in the face of severe trauma. The film is unabashedly 'masculine' in its approach to the notions of crime and comeuppance. The methods that the father and daughter duo employ to settle scores borders on the crass and ludicrous.

Not long after the heinous act is committed, the film cuts to a titillating item number featuring Sunny Leone in the guise of a bar dancer. If the purpose of the song is to underline the ugly mindset of the rapists, it isn't really served. The raunchy number is a titillating interlude, just another crude example of women being objectified for mass consumption.

In his first screen role since playing the robust Bhairon Singh in Rajkumar Hirani's PK, Sanjay Dutt is called upon to project a virile persona once he gets into mission mode, but his transformation from an ordinary man to an invincible crusader stretches credulity beyond snapping point.


Omung Kumar has a terrible record when it comes to casting actresses. He is the man who passed off Priyanka Chopra as
Mary Kom
and Aishwarya Rai as Sarabjit Singh's indomitable sister Dalbir Kaur. Both were disasters. He gets it right for once. Aditi Rao Hydari slips into the skin of her character rather smoothly. She makes a fair fist of the assignment - in the early scenes as well as in the post-rape sequences. Unfortunately, the film's focus is squarely on the male lead and his machismo.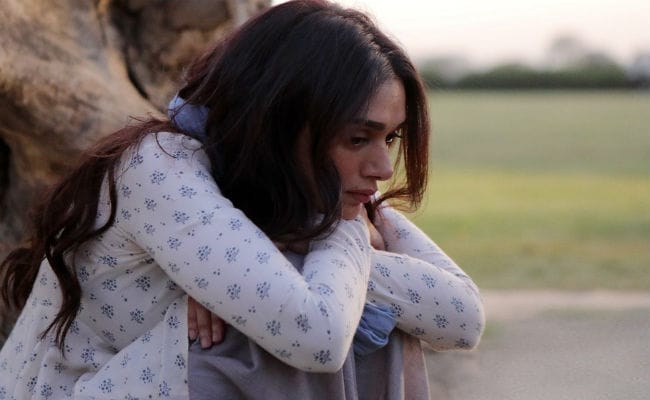 Little else in Bhoomi, with the exception of Sharad Kelkar in the guise of a brute of a man who throws his weight around with impunity, passes muster.

Even if you are in the mood to support Sanjay Dutt's 'comeback' film, Bhoomi is best given a wide berth. The actor definitely deserved better than this mangled mess of a movie. Bhoomi is an unmitigated cinematic boo-boo, a sad apology of an anti-rape movie.