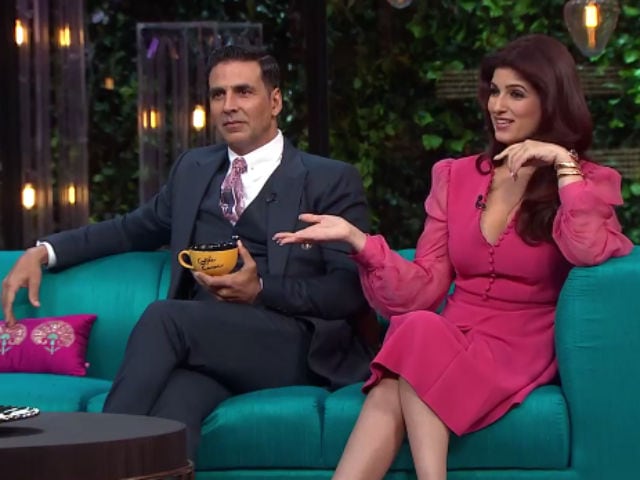 Highlights
It was a no-holds barred performance by Twinkle
Akshay is sexy because he looks like he is built to last: Twinkle
When Twinkle says, 'I am fine' it means we all are dead: Akshay
New Delhi:
Cat got TV chat host Karan Johar's tongue during the dreaded rapid fire round on
Koffee With Karan
Season 5's latest episode.
Twinkle Khanna went in
all guns blazing, which KJo, as an old friend, ought to have been prepared for.
But can anybody really be armed against an onslaught of this sort, albeit hilarious? It was a no-holds
barred performance by Twinkle
, the kind we rarely got to see during her acting career. Husband Akshay Kumar's attempt to caution her (using their coded phrase "
Chashma Pehan Le
," meaning be careful with your words) was thankfully ignored, giving
Koffee With Karan
its best rapid fire round ever. For those of you who didn't watch, here are some choice gems.
Women find
Akshay Kumar sexy because...
Twinkle: He looks like he is built to last.
(Akshay's two bits, "
Mazboot Tikau
," were dismissed by Karan saying, "I don't think she meant that.")
What does Akshay have that Khans don't?
Twinkle: Some extra inches.
And to a flabbergasted Karan, Twinkle: Don't look at his crotch. I meant his feet. You always had your mind in other people's crotches. It his feet-size 12.
Akshay Kumar's discomfiture doubled by Karan valiantly countering with: Like
Crotch Crotch Hota Hai
.
One thing men should know about women that they don't
Twinkle: Women aren't like faucets. One twirl, you turn them on and everything gushes. It takes a little more effort.
Silence. * Akshay desperately gulps his coffee * Silence eventually filled by Karan: She has turned into those Gyani babas who write columns. Twinkle has a name for her baba version-Twink Baba.
What's the meanest thing one has said about your writing?
Twinkle (points to Karan): 'When you started writing columns. They said that Karan Johar is the new Mrs Funnybones.'
'If I wrote a book on Bollywood, it would be titled?'
Twinkle's epic response:
Tentacles to Testicles
Things we also learnt about Akshay Kumar from his loose-lipped wife - he cries a lot, wears checked pyjamas of the sort favoured by eight-year-olds, and can sleep in the same position without moving. Also, nothing pisses him off (that, we can totally believe).
Akshay's rapid fire was almost as entertaining. He's been subject to Karan Johar's machine-gunning on the previous season and so did fairly well.
What does your wife mean when she says, 'We need to talk'?
Akshay: That means I must have not flushed the toilet.
What does she mean when she says 'I am fine'?
Akshay: That means we all are dead. Just run for cover.
What does she mean when she says, 'Do I look fat in this?'
Akshay: If I say no, she would never trust me.
If you could change one thing about your wife, what would that be?
Akshay: Her fuse.
Well done, Akshay - not as well done as Twinkle but far better than Karan Johar himself, who was subjected to a quick fire questionnaire devised by his guests' four-year-old daughter Nitara.
There was a clear winner.
Twinkle Khanna = 10 on 10
Akshay Kumar = 5 A for effort
Karan Johar = 0 (sorry, Karan)