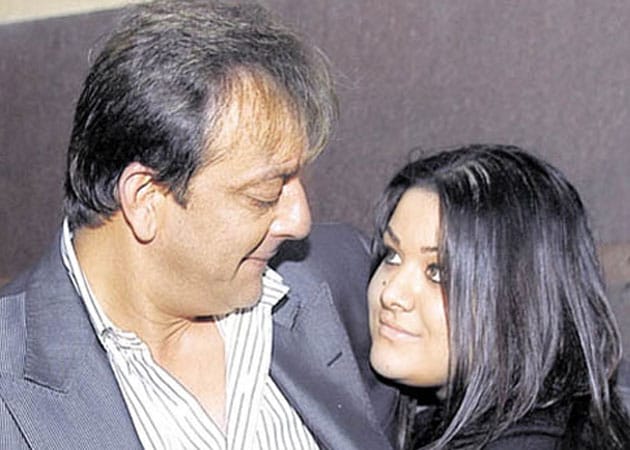 Highlights
Her daddy may be proving his mettle on the big screen, but for Sanjay Dutt's elder daughter Trishala, it's the words she pens that do the talking. However, sources say that the avid writer, who often takes to microblogging sites to vent her thoughts, has remained noticeably quiet when it comes to voicing her opinion on Dutt's imminent jail term.
Insiders say Trishala, who resides in the US and is said to be quite close to her papa, is putting up a brave front and is instead concentrating on her upcoming fashion line.
A source says, "Despite staying in the US, it's not possible to be unaffected by what is happening to Sanjay here. The time has come for him to finally go to prison and people were expecting Trishala to have an emotional outburst. However, she is putting up a brave front and is focussing right now on her career as a designer. She will soon be launching her own label towards the end of this year. Trishala is putting in late nights almost everyday to complete her work. She has also lost a lot of weight."
Some say that losing her mother Richa Sharma at an early age or even staying away from her father has made Trishala strong. Another source adds, "She has the knack of expressing herself really well on Twitter or her blog. But she has been holding her words back as far as her father is concerned."
Mumbai:
Her daddy may be proving his mettle on the big screen, but for Sanjay Dutt's elder daughter Trishala, it's the words she pens that do the talking. However, sources say that the avid writer, who often takes to microblogging sites to vent her thoughts, has remained noticeably quiet when it comes to voicing her opinion on Dutt's imminent jail term.
Insiders say Trishala, who resides in the US and is said to be quite close to her papa, is putting up a brave front and is instead concentrating on her upcoming fashion line.
A source says, "Despite staying in the US, it's not possible to be unaffected by what is happening to Sanjay here. The time has come for him to finally go to prison and people were expecting Trishala to have an emotional outburst. However, she is putting up a brave front and is focussing right now on her career as a designer. She will soon be launching her own label towards the end of this year. Trishala is putting in late nights almost everyday to complete her work. She has also lost a lot of weight."
Some say that losing her mother Richa Sharma at an early age or even staying away from her father has made Trishala strong. Another source adds, "She has the knack of expressing herself really well on Twitter or her blog. But she has been holding her words back as far as her father is concerned."