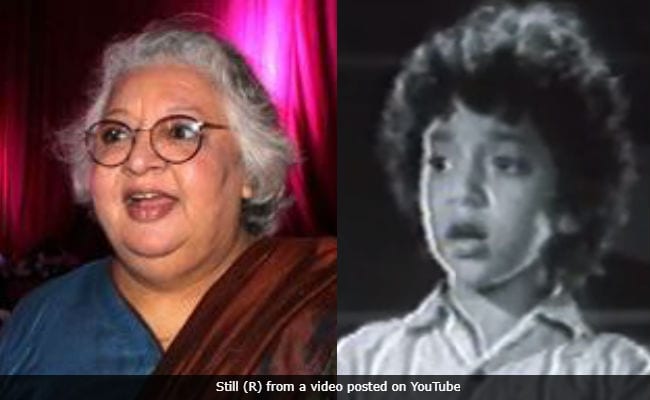 Highlights
Daisy Irani said her mother was 'hell-bent on making her a star'
Our lives resembled a never-ending black comedy: Daisy Irani
Daisy Irani has starred as a child artiste in Jagte Raho and Boot Polish
New Delhi:
Daisy Irani, who starred as a child artiste in films like
Boot Polish
,
Jagte Raho
and
Naya Daur
, told
Mumbai Mirror
that she was raped during an outdoor shoot by her mother-entrusted "guardian" when she was six-years-old. Daisy Irani said that her mother was "hell-bent on making her a star." She told
Mumbai Mirror
: "The man who did this was supposed to be my guardian. He accompanied me to a film shoot (
Hum Panchhi Ek Dal Ke
) in Madras. One night in the hotel room he violated me, hit me with a belt and warned me that he would kill me if I ever told anyone about what had happened." 60 years later, Daisy Irani can "recall the incident only in flashes, but I do remember the killing pain, and the visual of him belting me." She went to the sets of the film next day as if nothing had happened, she told
Mumbai Mirror
. Daisy Irani said that her mother got to know about the Madras incident many years later but "what could be done really?"
"That man is dead and gone. His name was Nazar. He was related to the famous singer Zohrabai Ambalewaali. Obviously, he had contacts in the film industry. My mother was hell-bent on making me a star," Daisy Irani added.
Daisy Irani decided to talk about her childhood, which she says "resembled a never-ending black comedy," to alert the parents of child artistes of today to be vigilant for their kids' safety. "Child actors have it tough. In a majority of cases they have been taken advantage of. Maybe a few have had it easy, but most don't, really," she said.
Daisy Irani is the sister of Honey Irani (mother of Farhan and Zoya Akhtar) and Meneka (Farah and Sajid Khan's mother). When her siblings entered the film industry she became "over-protective" for them.
Daisy Irani also talked about the time when her mother had asked her to dress up to meet a film producer. "When I was 15 or so, my mother made me wear a sari, padded me up with a new-fangled sponge, and left me alone with producer Mallikchand Kochar, who was planning a film called
Mere Huzoor
then, at his office. It was all quite hilarious... He joined me on the sofa, and started touching me... I knew what was on his mind. I took out the sponge things and handed them to him. He was furious. Now why did I do that? Because, I've always seen the funnier side of things," she told
Mumbai Mirror
.
In the last few years, Daisy Irani has starred in films such as
Happy New Year
,
Shirin Farhad Ki Toh Nikal Padi
and
Housefull
.