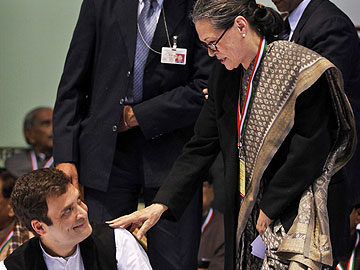 Lucknow:
Congress leaders Sonia and Rahul Gandhi are unlikely to run against candidates of the Samajwadi Party in their constituencies in Uttar Pradesh, said Chief Minister Akhilesh Yadav today.
He said so far, his Samajwadi Party has not announced candidates against the Gandhis, a gesture he described as a reciprocal political courtesy. He pointed out that when his wife, Dimple, ran for parliament from Kannauj two years ago, the Congress had not put up a candidate against her.
Mr Yadav's father, Mulayam Singh, heads the Samajwadi Party, which provided crucial external support to Prime Minister Manmohan Singh's coalition government.
Mulayam is leading the effort to group together a Third Front of 11 parties that are not affiliated to either the Congress or the BJP, who each anchor national coalitions.
Most Third Front parties say their focus will lie not in pre-poll alliances with each other, but on working after the results are out to check the BJP and the Congress from coming to power.
In the last national election in 2009 too, the Samajwadi Party did not field candidates against the Gandhis, who are the Congress' two most-senior leaders.
Sonia Gandhi is running for a fourth term from Rae Bareli; Rahul is asking voters for a third term from Amethi.
Opinion polls show the Congress heading for one of its worst performances ever. The BJP, under prime ministerial candidate Narendra Modi, is expected to get the maximum seats, but will fall short of a majority according to forecasts.