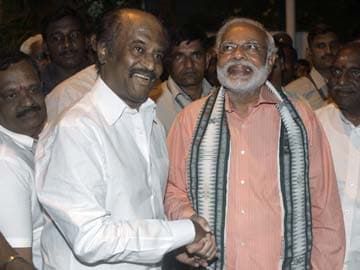 Chennai:
Bharatiya Janata Party's prime ministerial candidate Narendra Modi on Sunday evening met actor Rajinikanth at the latter's residence in Chennai right after reaching the city.
Later, Mr Modi addressed an election rally in Chennai.
(Will Rajinikanth help Narendra Modi score a superhit in Lok Sabha polls?)
The buzz is that Mr Modi sought the actor's endorsement for the Lok Sabha polls.
Though the actor has taken an apolitical stand over the last ten years, a senior BJP leader told NDTV, "Even if Mr Rajinikanth doesn't publicly endorse BJP, the meeting itself would turn out to be a support statement for the party which is trying to gain a foothold in the state".
This will be Mr Modi's second election campaign in Chennai for the parliamentary polls.
(Narendra Modi: the tea seller who could be PM)
Opinion polls have projected that the BJP will not fare well in Tamil Nadu.
Over the next week, top BJP leaders including Mr Modi, LK Advani and Rajnath Singh have scheduled a blitzkrieg of sorts in Tamil Nadu in a bid to better the party's prospects.
"Everyone knows that he is a strong leader and able administrator. He is my well wisher and I am his well wisher. I wish him all the best for his future. All the time God should be always with him. I pray to God that whenever he thinks, whatever he thinks should happen," Rajinikanth said after the meeting.
Posing for the media outside his residence, thronged by a huge gathering of fans, the actor shook hands and hugged Modi and said, "I am happy he is here."
Speaking to the press with Modi at his side, Rajinikanth said, "This is not a political meeting."
"When Modi
ji
visited me when I was hospitalised, I had invited him to have a cup of tea with me whenever he came to Chennai. So he has come now," the actor said
Responding to his good wishes, Modi, dressed in a saffron shirt and
dhoti
, said, "I wished him on the eve of Tamil New Year. He is a good friend."
Modi, who was in Chennai to attend AIADMK chief J Jayalalithaa's swearing-in as chief minister on May 16, 2011, had visited Rajinikanth at a private hospital where he was undergoing treatment for respiratory problems and wished him speedy recovery.
Incidentally, this is the second high-profile meeting between the actor and a senior politician this election season.
(India Votes 2014: Coverage)
On March 14, Tamil Nadu politician MK Alagiri, who had been suspended from the DMK, a party headed by his father Karunanidhi, had also met the actor in Chennai.
"Rajinikanth is my friend...there was nothing political about this. I came for peace of mind," Mr Alagiri had said after the meeting.
On March 25, Mr Alagiri was expelled by the DMK.