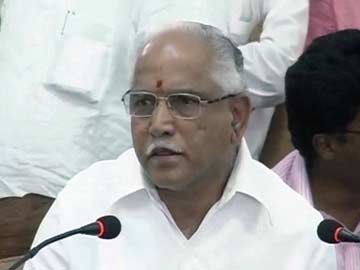 Shimoga, Karnataka:
Call him the strongman of the BJP or the prodigal son of the South, BS Yeddyurappa has managed to make national headlines consistently in the last few years for all the wrong reasons. Yet the BJP is hoping he will work the magic in Karnataka. Mr Yeddyurappa, the former Chief Minister of Karnataka, is now fighting parliamentary elections for the first time from his home turf Shimoga.
Mr Yeddyurappa was brought back into the BJP despite criticism and corruption allegations, with a hope that he would help win several of the 28 Lok Sabha seats for the BJP from Karnataka. Which is why Mr Yeddyurappa has been campaigning not just for himself in Shimoga but also in constituencies like Bellary, Udipi, Chikkamagalur, Davangere and Hubli-Dharwad.
With pending cases of land denotification as Chief Minister of Karnataka to allegedly benefit his family, Mr Yeddyurappa says the cases are small and he will get relief from courts.
"Everybody knows who Yeddyurappa is. I have done a lot of work in the state and specially my constituency Shimoga. I as Chief Minister have the power to denotify land and what is wrong in that. I will get relief from the courts," he said.
The 71-year-old had walked away from the BJP with his supporters after serious differences in 2012 to ensure that the party didn't win in the assembly elections held in April last year. For example, the BJP did not manage to win even a single seat of the seven assembly seats in Shimoga during state elections.
"I will win now with a huge majority. Nobody has worked like me in Shimoga and the people know that. Film stars may be coming to Shimoga to campaign for other candidates, but I do not feel threatened. The people will see and clap for film stars but they will vote only for me" a confident Mr Yeddyurappa said during a massive rally here.
Geetha Shivarajkumar, the Janata Dal (Secular) candidate, may be a new entrant to politics, but not the process. She is the daughter of former chief minister and four-time MP, S Bangarappa. They say behind every successful man is a woman - behind this woman is her man. Shivarajkumar, Kannada's leading actor and elder son of popular actor Rajkumar tries her chances to win against Yeddyurappa.
"The love they have towards my father, towards me, especially because I am a woman candidate, is helping me. They want me to solve their problem and if elected I will help them," said Geetha Shivrajkumar.
"I am not coming to politics yet. My wife is there and I will give her that space. The blessings from people and my father Rajkumar is there. He was the only actor who called people as God," said Kannada's leading actor Shivarajkumar.
For the people of Shimoga, price rise and corruption seem to be the main issues this election. Parveen, a worker in Shimoga's flower market for years, says "This garland used to be Rs 10 some three years ago. Today it has crossed Rs 100 during demand season. With this kind of price rise, where do I go? How can I give decent education to my son?"
Another voter Venkatesanna said "For us it is about onions which have touched Rs 70, dal which is at least Rs 80. There is unemployment here. For us it is not about Congress or BJP. Our vote will go for the man who can be a good MP, who will work well."
Congress' Manjunath Bhandary is hoping to win over the political star and film star power. The Congress candidate known to be close to party president Sonia Gandhi has a 'clean' image but is seen an outsider as much of his business is in Mangalore.
"I am from here. My father is from here. These are my friends and classmates. FYI - Yeddyurappa is an outsider to Shimoga. I am from this very taluk," said Manjunath Bhandary.
Karnataka votes in a single phase on April 17.