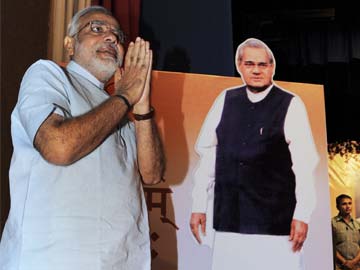 New Delhi:
RSS leader Indresh Kumar has compared BJP's prime ministerial candidate
Narendra Modi
to Subhas Chandra Bose and former prime minister Atal Bihari Vajpayee to Mahatma Gandhi.
"Atal Bihari Vajpayee and Modi are just the same... one is like Mahatma and the other is like Subhas Chandra Bose," Mr Kumar said in an interview to a private news channel on Friday.
He also said Mr Modi and Mr Vajpayee were "just the same" and followed "secularism full of nationalism".
Mr Kumar said the Rashtriya Swayamsevak Sangh (RSS), the ideological mentor of the BJP, was running the party's campaign in Uttar Pradesh as it wanted to ensure a high voter turnout.
"Yes, we are managing the election campaign in UP to ensure there is 100 percent voting... we are working on the ground to ensure people make the right choice," he said.
The RSS leader clarified that senior BJP leader LK Advani was not opposed to Mr Modi being made the prime ministerial candidate but was only unhappy about the timing of the announcement.
"Advani's opinion was not against Modi. His dispute was about the time when the decision must be taken, before the assembly election or after," he said.
He dubbed as "fools" those criticising the RSS and said the Sangh has never endorsed communal politics.
"Those who have this notion are foolish... the Sangh has never been for a communal society or politics. The Sangh is for nationalism, humanitarian causes," he asserted.