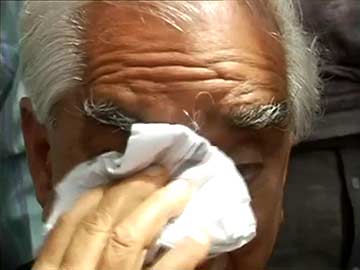 Jodhpur:
Upset over not being allowed to contest upcoming Lok Sabha polls from his home constituency, senior BJP leader
Jaswant Singh
is likely to resign from the party tomorrow, sources have said.
Speaking to NDTV from Jodhpur today, an emotional Mr Singh expressed disappointment over the party's decision to deny him the seat of his choice and said, "My honour cannot be subject to trading." He broke down while speaking and added that "there has been an encroachment on the principles and ideologies of the BJP."
(Watch video here)
Mr Singh, 76, wanted to contest what is likely to be his last election, from Barmer, the constituency in Rajasthan where he was born. But the BJP ignored his request and instead decided to field Colonel (Retd) Sona Ram Choudhary, a former Congressman who recently joined the party.
(Colouring the electoral landscape: defectors and dissenters)

His supporters in Barmer want him to contest as an independent candidate. But Mr Singh has not confirmed his decision yet. His son Manvendra Singh, who is a BJP state legislator, will have to be careful about how much he supports Mr Singh's decision to run as an independent candidate, if that's what the veteran decides.
Seeking to play down the controversy, BJP's Arun Jaitley told reporters today, "It is unfortunate that we could not adjust him. The party will find some other option for him."
The BJP picked Col Choudhary for Barmer after much persuasion by Rajasthan Chief Minister Vasundhara Raje who argued that as a Jat, he could help the party in the constituency where Jats are the dominant community. Mr Singh is a Thakur.
The move has upset a section of BJP workers in Barmer who were backing Mr Singh. Yesterday, some workers even held a protest rally and burnt effigies of the Chief Minister.
Jaswant Singh has never contested from Barmer. He won Lok Sabha elections from Chittorgarh in Rajasthan in 1991 and 1996, and from Darjeeling in West Bengal in 2009.
If he decides to contest as an independent, he could upset the BJP's calculations as there are at least 1.5 lakh Rajput voters in the constituency.