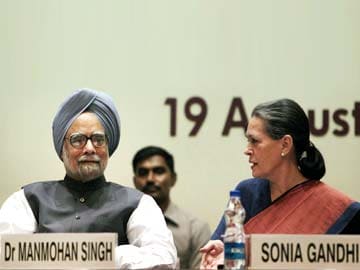 New Delhi:
Congress president Sonia Gandhi will host a farewell dinner for Prime Minister Manmohan Singh today, two days before the announcement of results of Lok Sabha elections.
A memento is also expected to be presented to Dr Singh signed by all members of the Congress Working Committee (CWC) and Union Ministers, sources said.
Yesterday, which was also his last day at work, a standing ovation and emotional farewells greeted the Prime Minister as he prepared to demit office on Saturday, a day after the national election verdict. (
On Prime Minister Manmohan Singh's Last Day at Work, a Standing Ovation
)
To his staff at South Block, his office of 10 years, Dr Singh said, "You served the nation well. God bless you." (
On PM's Last Day at Work, Some Praise in Arun Jaitley's Critique
)
He later chaired the last meeting of his cabinet's economic panel.
Dr Singh, 81, had announced earlier this year that he would not seek a third term even if the Congress-led United Progressive Alliance won this time. (
At 7 Race Course Road and PM's Office, it is Time to Pack, Catalogue
)
Congress leaders had always spoken of the relationship between the Prime Minister and Mrs Gandhi as an ideal division of labour, which saw perfect harmonisation between the government and the party. (
Nobody Would Have Been Interested in Book Post-Polls: Sanjaya Baru
)
AICC has always maintained that there cannot be any better relationship between a party president and a Prime Minister and had often dismissed as "rumours and disinformation" reports of differences between the two.