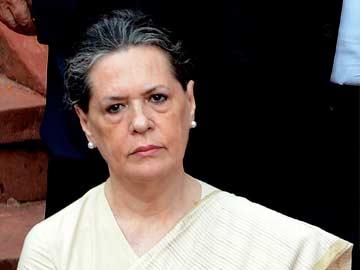 New Delhi:
In a new ad for her party, Congress President Sonia Gandhi has unpacked her strongest attack in this election season on the opposition. Without naming the BJP, Mrs Gandhi said in a rare direct appeal to voters, "Their vision, clouded with hatred and falsehood, their ideology, divisive and autocratic, will drive us to the ruination of our Bharatiyata, our Hindustaniyat." (
Read more here
)
"Mrs Gandhi and the Congress should first learn and understand what Bharatiyata is," retaliated BJP president Rajnath Singh in an interview to NDTV.
Mrs Gandhi's three-minute address to the country ran on television channels last night as a paid-for ad by the Congress. The BJP's prime ministerial candidate
Narendra Modi
alleged that she has been forced onto centrestage in a bid to avert what polls predict will be the worst-ever election defeat for Congress, after a weak campaign led by her son,
Rahul
.
"All of a sudden Sonia Gandhi has come to the fore to take charge of the campaign. She had thought that her son would do something. But when nothing happened, what could she do?"
Sitting in a book-lined study and wearing a dark red sari, Mrs Gandhi did not mention Mr Modi by name. But her comments suggested that his brand of Hindu nationalism poses a threat to social peace. (
India Votes 2014: Full Coverage
)
Get Breaking news, live coverage, and Latest News from India and around the world on NDTV.com. Catch all the Live TV action on NDTV 24x7 and NDTV India. Like us on Facebook or follow us on Twitter and Instagram for latest news and live news updates.