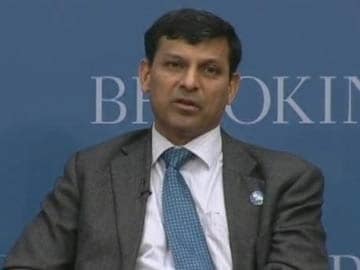 Washington:
Raghuram Rajan, Reserve Bank of India Governor, has dismissed as speculation reports of tension between him and the
Narendra Modi
-led BJP, seen as the front-runner to form government after the general elections now being held.
Dr Rajan, brought in last September amid much hype to stem inflation and the spiral-down of the Indian rupee, credited the economy's turnaround in the last few months to Finance Minister P Chidambaram. "The success belongs entirely to the Finance Minister and not to the Reserve Bank of India...... we work together and I think one of the benefits is that there is a greater sense of comfort on fiscal consolidation," he said on stage at a high-profile event at the Brookings Institute in Washington.
(Watch Video)
That close association that he has shared with Mr Chidambaram and criticism for Dr Rajan's strategy on inflation from some members of the BJP has led to speculation on the future of his tenure should Mr Modi's party form government at the Centre next month.
(India Votes 2014: Full coverage)
"I haven't had any discussion with the new government. I think this is all press invented differences and I think it should be seen as such speculation rather than any actual differences," Dr Rajan said.
Reuters had reported last week that strategists in the BJP suggest they would prefer to have one of their own at the helm of the RBI if they form government.
(Post-election showdown looms for RBI Governor Raghuram Rajan)
BJP treasurer Piyush Goyal has attacked Rajan over a series of interest rate hikes intended to curb inflation, now running at double the RBI's longer-term 4 percent target, at a time when economic growth has fallen to its slowest in a decade.
Dr Rajan has raised the repo policy rate three times by a total of 75 basis points to 8 percent.
"Governor Rajan is only aggravating the problems and making them worse by increasing interest rates," Mr Goyal, a leading strategist and fundraiser for the BJP, told the Economic Times.
Subramanian Swamy, a BJP ideologue and former cabinet minister, put it more bluntly. "We can make it worthwhile for him to leave," he told Reuters.
Dr Rajan, a former International Monetary Fund chief economist is widely viewed as India's most capable technocrat, winning the respect of investors for his handling of the currency crisis that hit Asia's third-largest economy last year.
"It will be a big loss of face for the country and would create a negative perception among foreign investors if the BJP removes the governor immediately after forming the government," said A Prasanna, an economist at ICICI Securities Primary Dealership Ltd in Mumbai.
Before moving to the RBI, Dr Rajan, 51, served as chief economic adviser to the Finance Ministry under the Congress party-led government
"I would not be surprised if a government led by Narendra Modi removes the governor," said Satish Misra, an analyst at the Observer Research Foundation, a Delhi-based think-tank. "Modi does not brook any opposition."
"It would not be easy to remove Rajan from a constitutional post," said a senior Finance Ministry official, who spoke on condition of anonymity. "It would lead to turmoil in the markets," he said.