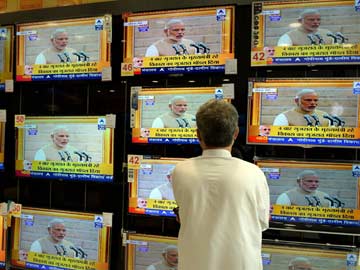 New Delhi:
Seconds after Narendra Modi was sworn-in as the 15th Prime Minister of India, the Prime Minister's official website was relaunched carrying his message and pictures. (
Read his message here
)
The website also has a new features which allows users to interact with the Prime Minister by sending in their queries.
This, and Mr Modi's use of social media to revert to world leaders after they congratulated him for his victory in the general elections, shows a promising trend - a trend that India's 15th Prime Minister will use technology and social media to stay connected.
"As we devote ourselves to take India's development journey to newer heights, we seek your support, blessings and active participation," Mr Modi said in his first message on the website.
He added, "Together we will script a glorious future for India. Let us together dream of a strong, developed and inclusive India that actively engages with the global community to strengthen the cause of world peace and development."
A short profile was also uploaded on www.pmindia.nic.in which described him as "dynamic, dedicated and determined" leader who "arrives as a ray of hope in the lives of a billion Indians".
Mr Modi's "laser focus on development and his proven ability" to deliver results have made him one of India's most popular leaders, the profile stated.
Though it did not name the RSS, it said, from a very young age, Mr Modi immersed himself in service to the nation, working with "patriotic organisations".
An option called "Wish the Prime Minister" takes users to Mr Modi's personal website.