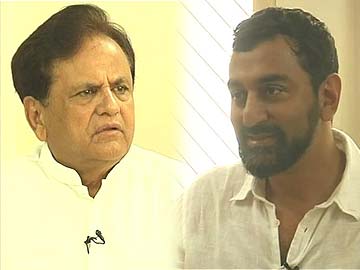 Bharuch, Gujarat:
As top Congress leaders speak of taking or giving support to a Third Front after the election results, Ahmed Patel, the Congress party's key strategist and Sonia Gandhi's political secretary told NDTV that the Congress is open to such a possibility if it means keeping the BJP out of power.
According to the Press Trust of India, senior Congress leader and Union Minister Salman Khurshid had earlier said, "After poll results, if necessary Congress could consider extending support even to the Third Front to form the government. Not only this, taking support from the Third Front could be considered."
Mr Patel, in an exclusive interview from Bharuch in Gujarat where he is campaigning, said while any such possibility is hypothetical the Congress is always "for like-minded parties" that "can keep communal forces at bay," a reference to the BJP.
When asked whether this doesn't amount to an admission of defeat he said "talks with Third Front doesn't mean we won't get majority."
"I will resign if proven Sonia Gandhi signed PMO files": Patel
Mr Patel also strongly rebutted claims made in a recent book by Sanjaya Baru, former media advisor to the PM, in which Mr Baru had claimed that the PM had surrendered authority to Congress President, whose opinion was sought on clearing sensitive files.
But Ahmed Patel said that as a member of the Congress core group, he "is ready to resign if it can be proved that files were cleared by Mrs Gandhi."
"I am a member of Congress core group, I'm witness to what happened," he said. "If any Minister can say any file was going to Mrs Gandhi, or through Mrs Gandhi, I will resign."
But he did admit that "sometimes on policy level matters, there is a Congress ideology, when a government takes a decision, party will have its say."
In his book Mr Baru had claimed that the liaison between Sonia Gandhi and the PMO was Pulok Chatterjee, the Principal Secretary to the PM, who Mr Baru suggests was appointed at the behest of 10 Janpath.
Mr Chatterjee had earlier served in Mrs Gandhi's office.
But Mr Patel dismissed claims that Pulok Chatterjee was 10 Janpath appointee. He said that the "PM may have chosen him on merit, after seeing Pulok work with Mrs Gandhi."
He said that Mrs Gandhi may have met Mr Chatterjee but "at social functions, but not to clear files."
"Why don't you see how the NDA government functioned, they had the RSS as an extra constitutional authority," said Mr Patel.