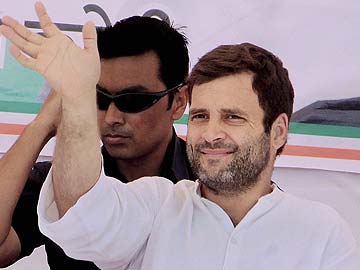 Mumbai:
Lashing out at the BJP for indulging in divisive politics and misleading Indian people,
Rahul Gandhi
on Sunday said only the Congress can ensure all-round development and progress in the country. (
Elections: full coverage
)
Addressing his first rally in Mumbai at the suburban BKC Grounds, Mr Gandhi targeted Bharatiya Janata Party's prime ministerial candidate
Narendra Modi
for making false claims.
"Modi wants Hindus and Muslims to fight. What happens after the riots? You, the poor suffer, they go home. We want everybody to live and work harmoniously for the country's progress. That is the difference between them and us," Mr Gandhi said.
Assuring that only the Congress could ensure all-round development of the country with the fruits of progress reaching the poor, he said Mr Modi's thinking was different.
"He believes that only two-three industrialists should benefit, while the poor should remain where they are. He has given away 45,000 acres of land, the equivalent of Thane city to a group at Re.1 per square metre. This is the Gujarat model of development," Mr Gandhi said.
Referring to Mr Modi's slogan of "empowering women", Mr Gandhi said that in Gujarat, women's phone calls were tapped, while in Bangalore BJP workers assaulted women.
"Women in the country are strong and don't need any 'empowerment'. Just give them respect, the rest will automatically follow," Mr Gandhi said amid applause.
He said if the UPA is voted to power, it would first take up the issue of 33 per cent reservation for women which has been stalled by the opposition in parliament.
"We shall open 2,000 all-women police stations and give 25 per cent police jobs to women. Only then will India become a superpower," Mr Gandhi said.
Enumerating the government's achievements, he said that in the 10 years of UPA, food security was assured to all poor people.
He assured that the UPA plans to go ahead and give benefits of all types of expensive surgeries to the deprived sections, guaranteed housing and jobs to youth, and uplifting the maximum number of poor to the middle class.
"But, when Modi came to Mumbai, he only said there should be a university for acting. He forgot the poor, only remembered Bollywood," Mr Gandhi said.
He also said the textile industry is in doldrums in Gujarat, while the diamond industry is facing crisis and one out of every two children is hungry.
"In fact, compared to the NDA, the UPA has constructed three times more roads, generated two times more power. But they don't see all this development. They want the poor to remain where they are, we want the poor to progress along with the nation," he said.
Rahul Gandhi's unscheduled rally came after his mother and Congress president Sonia Gandhi cancelled her state election tour due to ill health.
Chief Minister Prithviraj Chavan, union ministers Sushilkumar Shinde, Milind Deora and Rajiv Shukla, city Congress chief J. Chandurkar and state Congress chief Manikrao Thakre were also present at the rally.
NCP chief
Sharad Pawar
could not make it due to technical problems in his helicopter.