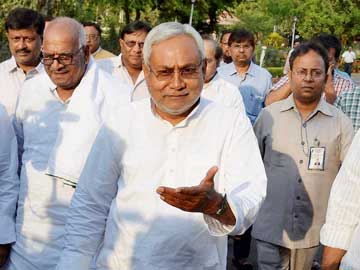 Patna:
Nitish Kumar's decision to resign from the Bihar chief minister's post, owning moral responsibility for his party's debacle in the Lok Sabha polls, was greeted with derision by his erstwhile ally, the BJP.
"Tomorrow, MLAs will again re-elect Nkumar as their leader & he will withdraw his resignation claiming under pressure of MLa's (sic)," tweeted his former deputy Sushil Kumar Modi.
"There is nothing new in it, Nitish Kumar is fond of resigning. He had resigned when a rail accident took place during his tenure as union railway minister and later withdrew it," added Mr Modi in another comment posted on the micro-blogging site.
The senior BJP leader and former Bihar deputy chief minister had landed in the Capital late this afternoon to discuss the poll verdict in his state with his party's top brass. He rushed back to Patna on hearing the news about Mr Kumar's resignation.
Flush with its impressive show in Bihar, the BJP has indicated that it would prefer to have fresh polls in the state. Its ally, Lok Janshakti Party, or the LJP, aired similar sentiments. "There should be elections within six months," said its founder Ram Vilas Paswan, whose party won an impressive six seats in alliance with the BJP.
In the Lok Sabha polls, the JD(U) suffered a rout, and could only win 2 of the 40 seats. It had won 20 seats in 2009 in alliance with the BJP, which had bagged another 12.
The BJP was the beneficiary of the JD(U)'s decision to part ways with it in June last year after Narendra Modi was declared its prime ministerial face. It won 31 seats this time in partnership with the LJP and Upendra Kushwaha's Rashtriya Lok Samata Party.
Lalu Prasad Yadav, who heads the Rashtriya Janata Dal, said he was keeping a tab on the developments. "The people have rejected him. Nothing is clear as of now, so we are watching the situation," he told reporters in Patna.