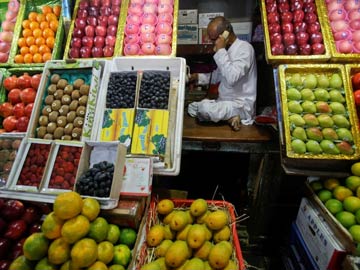 New Delhi:
India's ailing economy showed little sign of improvement on Monday, trapped in a spell of weak growth and high inflation when the country is on the cusp of political change that is widely expected to script an economic revival.
Output from mines, utilities and factories fell for a second straight month in March, shrinking 0.5 percent from a year earlier compared with analysts' median forecast of an annual contraction of 1.5 percent, government data showed on Monday. Output had fallen a revised 1.8 percent in February.
In other data, consumer inflation accelerated to a three-month high of 8.59 percent in April from 8.31 percent in March.
Asia's third-largest economy is battling the worst slowdown since the 1980s as GDP growth has almost halved to under 5 percent in the past two years. The slowdown, however, has not cooled inflation that has been averaging nearly 10 percent for the past two years, way above the central bank's comfort zone.
Monday's data will likely put Reserve Bank of India (RBI) chief Raghuram Rajan into a quandary ahead of a policy meeting on June 3. Higher inflation readings make it tougher for him to support a flagging economy.
"There is no scope for the RBI to reduce interest rates given the sustained increase in consumer price inflation despite a favourable statistical base," said Rupa Rege Nitsure, chief economist at Bank of Baroda.
"We are looking at an extended pause in interest rates."
Coinciding with the final day of India's five-week national election, the data underscored the enormity of challenges awaiting a new government that takes over after the counting of votes on May 16.
OPTIMISM
Indian shares surged to a record high and the rupee rallied to its strongest in 10 months on rising hopes that exit polls later on Monday will likely show opposition challenger Narendra Modi's Bharatiya Janata Party (BJP) and its allies winning a majority in the election. A win for a BJP-led coalition is expected to set the stage for a revival in confidence and investment.
Modi has run a gruelling campaign mainly on promises to create jobs and restore India to a path of high economic growth. India's National Stock Exchange .NSEI has surged nearly 19 percent since he was named as the BJP's prime ministerial candidate.
While financial markets are betting on him to replicate his pro-business policies in the western state of Gujarat on a national level, an economic revival depends on his success in boosting consumer and investment demand.
"If the (new) government fails to impress quickly, investor optimism could soon turn to disillusion," cautioned Miguel Chanco, India Economist at Capital Economics.
Capital investment growth probably hit an 11-year low last fiscal year as firms shelved more than $100 billion in projects, the highest in the past 18 years, data from think tank CMIE showed, due to policy uncertainty and pending regulatory clearances.
Capital goods production, a barometer of investment in the economy, has contracted in nine of the past 12 months. In March, it fell 12.5 percent from a year earlier.
Persistently high inflation and elevated interest rates in an economy hit by slowdown have crimped consumer demand. Consumer goods output, a proxy for consumer demand, has grown just once in the past 11 months. It fell an annual 0.9 percent in March.
CHALLENGES
While many analysts are hoping for a rapid implementation of pending labour, fiscal and tax reforms for a faster economic recovery, some say high corporate leverage and rising bad loans at Indian banks will hamper a pick-up in investment activity.
Stressed loans in India - those categorised as bad and restructured - total $100 billion, or about 10 percent of all loans. The debt-equity ratio of Indian firms has hit a two-decade high of 97.9 percent, Nomura said.
Compounding economic worries are the prospects of a below-average monsoon this summer, which could hit farm output and fuel inflation.
In 2009, patchy monsoon rains led to India's worst drought in nearly four decades, resulting in runaway food inflation.
Already food prices have started moving up after recent unseasonal hail and heavy rains in parts of the country damaged crops. Food inflation for consumers last month edged up to 9.66 percent from 9.10 in March.
© Thomson Reuters 2014
Get Breaking news, live coverage, and Latest News from India and around the world on NDTV.com. Catch all the Live TV action on NDTV 24x7 and NDTV India. Like us on Facebook or follow us on Twitter and Instagram for latest news and live news updates.