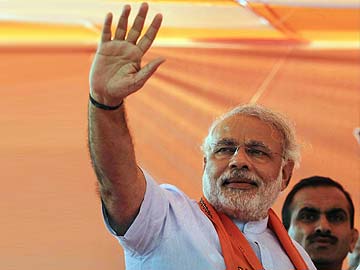 New Delhi:
The BJP appears to be sprinting towards one of its strongest finishes ever in Uttar Pradesh, India's largest state.
NDTV's opinion poll shows that the BJP will get half of the state's 80 seats. In the last election in 2009, it won just 10 parliamentary seats. The reset button has been pushed by the party's prime ministerial candidate, Narendra Modi.
Mayawati's party, the BSP, will get 15, down five from last time. The setback for the state's other regional powerhouse Mulayam Singh Yadav is considerably heftier. His Samajwadi Party is likely to get 13 seats, that's 10 less than his tally in the last general election in 2009. Mr Yadav is a frontliner in the movement to form a Third Front - a post-election coalition of regional parties like his and the Left - that hope to block the BJP and the Congress from coming to power.
The Congress - whose senior-most leaders Sonia and Rahul Gandhi represent Rae Bareli and Amethi - will lose 15 seats (along with ally Ajit Singh) to get 12 seats.
The BJP is likely to decide this weekend whether Mr Modi, should run for parliament from a constituency here. Among those being weighed is Varanasi, currently served in the Lok Sabha by senior BJP leader Murli Manohar Joshi. NDTV's opinion poll asked BJP voters in Gujarat, Mr Modi's home state, if he should run from UP. No, said 67 per cent. But in Uttar Pradesh, 62 per cent of BJP voters said they would like to see Mr Modi contest the election from here.
The BJP's strongest performance in UP was in 1998, when it won 57 of the 85 seats (Uttarkahand had not been carved out as a separate state), a landslide powered by the party's stated focus on building a Ram Mandir or temple at Ayodhya. In 1992, thousands of kar-sewaks (volunteers) had brought down the 16th-century Babri Masjid in the city, claiming that it was built on the area where Lord Ram had been born.
How are UP's Muslims voting?
Congress gets 36 per cent, Mulayam Singh Yadav's Samajwadi Party gets 32 per cent, Mayawati's BSP and BJP get 8 per cent each.
The upper-caste vote in Uttar Pradesh
BJP gets 66 per cent, Congress gets 25 per cent, Mayawati's BSP gets 19 per cent and Mulayam's Samajwadi Party get 5 per cent.