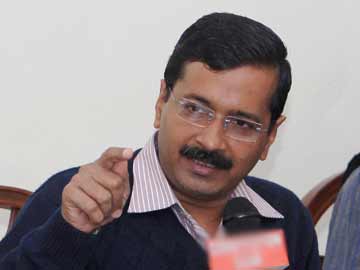 Arvind Kejriwal
's Aam Aadmi Party, which ruled for 49 days as a minority government in Delhi, is likely to return to power if Assembly elections are held in the capital right now, say 59 per cent respondents in an NDTV opinion poll.
The opinion poll was conducted in all seven Lok Sabha constituencies of Delhi by Hansa Research using the street corner methodology, which involved stopping people to answer questions as they passed by. 967 people were polled.
Delhi's residents across the demographic spectrum were asked, among other things, whether they would vote Mr Keriwal back if re-election in Delhi were held right now. While 59 per cent said AAP would be back, 24 per cent said anther party would win, while seven per cent said that Delhi would vote in a hung assembly the way it had in December last.
Most respondents gave Mr Kejriwal's performance as Chief Minister a thumbs up - 36 per cent said it was very good, 35 per cent said it was good; 14 per cent rated his performance as average, 10 per cent said poor and only 2 per cent said it was very poor.
Arvind Kejriwal's year old party had posted a spectacular debut in the December election, bagging 28 of Delhi's 70 assembly seats. After single-largest party, the BJP, said it could not make up the majority needed to form government, Mr Kejriwal was sworn in as Delhi's chief minister with external support from the Congress.
He resigned earlier this month after the BJP and the Congress blocked his anti-graft Jan Lokpal bill in the Delhi Assembly, and has since attacked both the big parties as he campaigns for the general elections, in which AAP plans to contest a massive 300 plus seats. He has also criticised the Centre's move to put the Delhi Assembly in suspended animation and not dissolve it.
In NDTV's opinion poll, 49 per cent respondents said Mr Kejriwal's resignation has improved his party's prospects in the Lok Sabha elections. While 26 per cent said it had weakened his position, four per cent said it had not impacted his chances at all.