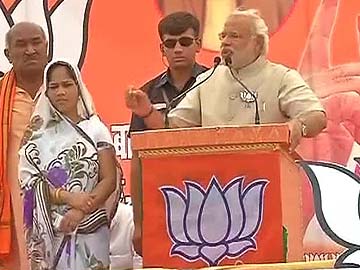 Ambedkar Nagar:
Narendra Modi today showcased the story of a woman, Sanju Devi, while campaigning in Uttar Pradesh. Within moments, tweets were referring to Mr Modi's 'Kalavati moment'.
The BJP's prime ministerial candidate is addressing a series of rallies in UP today, including in Rahul Gandhi's Amethi.
In Ambedkar Nagar, Mr Modi was delving on "politics of gun and violence" in Uttar Pradesh when he called Sanju Devi to the stage.
"I have just met a beti (daughter). She was widowed at such a young age. Her husband was killed. What was her fault? What is the government doing for her?" said the 63-year-old, attacking the state's ruling Samajwadi Party.
The comments were tweeted and re-tweeted many times.
"Hope the media doesn't make another Kalavati out of Sanju Devi," tweeted Sangeetha Kodithala.
Kalavati, a widow from Maharashtra's Vidarbha region, shot to fame in 2009 when Rahul Gandhi visited her and then mentioned her story in a speech in Parliament.
Aam Aadmi Party chief Arvind Kejriwal had also sparked a buzz in December after he talked about a poor rickshaw puller while campaigning for the Delhi state election. "A poor man approached me, he gave me all the money he had in his pocket. He was a rickshaw puller, said he had earned Rs.30 that day and he said he wants to give our party all his money," he said.