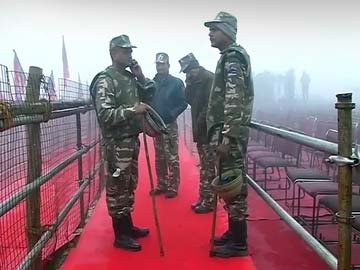 Lucknow:
BJP's prime ministerial candidate Narendra Modi is addressing a rally in Meerut today amid high security.
Security has been stepped up, keeping in view the recent communal riots in Muzaffarnagar in Uttar Pradesh. The inspector general of police has been made in charge of a political rally for the first time and a number of police personnel have been deployed.
Additional Director General of Police (Law and Order) Mukul Goel told IANS that security for Mr Modi's rally has been tightened.
Officials said two superintendents of police (SP), 10 additional SPs, 20 deputy SPs, 12 inspectors, 150 sub-inspectors, 450 constables, 22 traffic sub-inspectors, 15 traffic head constables and 10 companies of Provincial Armed Constabulary (PAC) have been sent from the headquarters in Lucknow.
Also, 20 hand-held metal detectors, 25 door-framed metal detectors, three anti-sabotage teams, two bomb disposal squads and two commando units of the anti-terrorist squad have also been dispatched for the rally venue.
Political parties expect Mr Modi to speak on the Muzaffarnagar communal riots that left 63 dead and thousands homeless. Mr Modi has so far maintained a studied silence on the riots and party insiders say that he might finally speak his mind at the rally.
During a rally in Patna in October last year, a series of blasts took place in the city before Mr Modi began speaking. Six people were killed and more than 80 were injured in the blasts.